Good news for cricket lovers and enthusiasts in USA and Canada. You can now watch IND VS WI T20 Live on your favorite online TV Station, YuppTV. The cricket season is here with us and just like other fans, fanatics and enthusiast; you never want to miss any piece of the action. You want to be part of the action right from the start as you watch your favorite stars and teams battle it out in the one-day tournament. This time round, it's India's turn to take on West Indies on American Soil. These two teams have a long history of producing some of the most amazing and exciting T-20 matches since its inception in 2003. The world of cricket is going crazy as people; wish to be part of the action. However, you may be worried that you may not be able to make it to the pitch or watch it on your local TV station.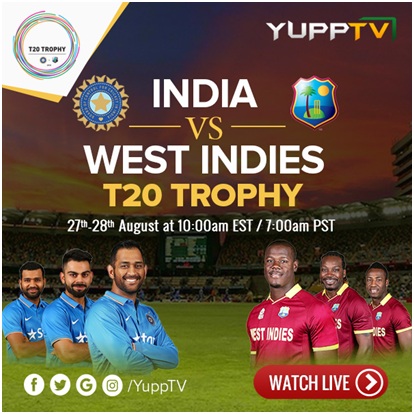 The good news is YuppTV offers T20 Live Streaming of two T20 Matches that are taking place in USA between India and West Indies. And if you didn't know, the IND vs WI T20 live streaming is available in USA, Canada & Caribbean regions. This means you stay informed on what's happening on the pitch just by landing on to YuppTV. YuppTV, the largest Over-The-Top (OTT) provider of South Asian content in the world bagged the exclusive rights to stream the Two-Match T20 cricket between WI and IND live for its viewers. The service is available in the USA, Canada and Caribbean countries. It is accessible via any internet-enabled device such as computers, laptops, tablets, smartphones and more.
Watch WI VS IND T20 Live streaming on the 27th and 28th of August. The highly-anticipated match will take place at the famous Central Broward Park Stadium that is located in Lauder hill in the State of Florida, USA. The T20 Match Live in USA will be streamed live through YuppTV and as long as you have subscribed for the service, you are guaranteed of being part of the live action even though you won't be at the stadium. West Indies boast of a strong squad of players who are expected to face-off with an improving Indian India. Sunil and Ashwin are among the match turners that to watch out for during the tournament. Don't miss any part of the WI VS IND T20 Live action. Subscribe to YuppTV and watch West Indies take on India on a T20 Match Live in USA on 27th and 28th of this month.