With its beautiful natural surroundings, rich biodiversity and abundant wildlife, Africa has long been one of the world's premier holiday destinations – after all, where else in the world can you not only see the famous Big Five, but also the Little Five (elephant shrew, buffalo weaver, ant lion, leopard tortoise, and  rhinoceros beetle)?
And Africa's largesse extends even further in the remarkable variety of vacations on offer – from budget holidays, relaxed family holidays, adventure excursions and the utmost in luxury and blissful comfort. Let's look at just a few of the amazing African destinations that cater to every kind of traveler!
For the budget-conscious – self-drive safari from the Serengeti to Cape Town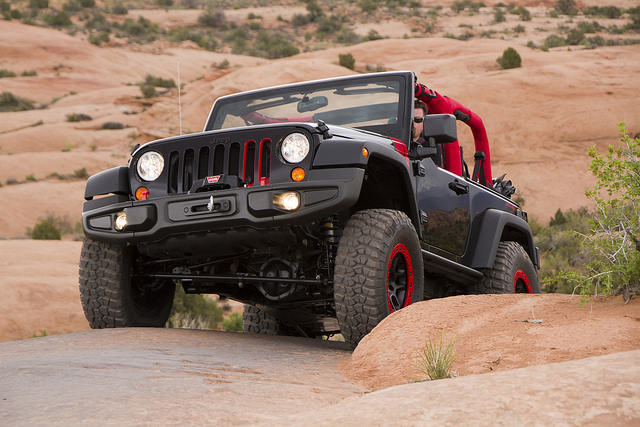 Image source: https://www.flickr.com/photos/chryslergroup/13894747723
This self-drive 4×4 safari, under the guidance of an experienced tour leader, is a truly unforgettable experience. It starts by you driving through the diverse, animal rich plains of the Serengeti, and then it takes you through six countries rich in cultural diversity, wildlife and natural beauty: Tanzania, Malawi, Zambia, Botswana, Namibia and South Africa.
Accommodation is provided in well-appointed, well-managed camps, frequently equipped with wi-fi, and providing comfortable sleeping, bathing and laundry facilities, as well as a bar, restaurant or café area.
Glamping in real style at Thanda Safari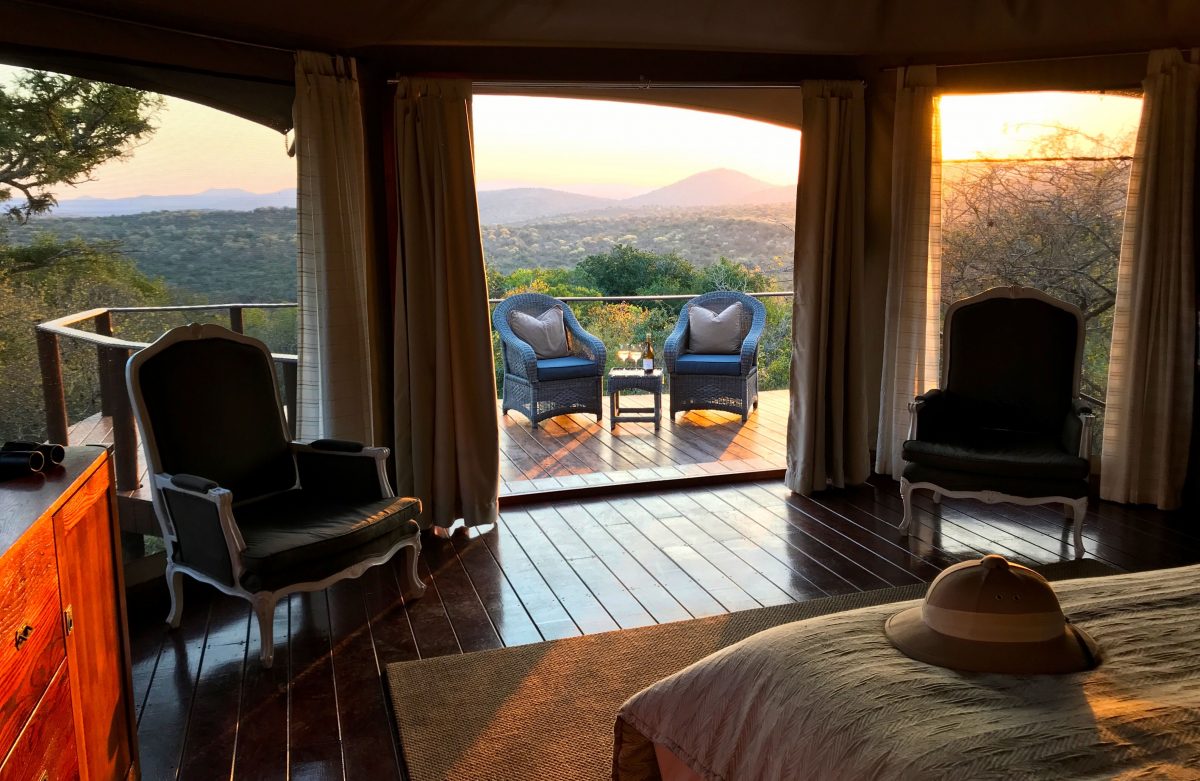 Image source: https://www.thandasafari.co.za/accommodation/thanda-tented-camps/
However, if your "camping" tastes run towards the luxurious and unashamedly self-indulgent, you definitely need to put Thanda Safari's big five game reserve accommodation on your list!
Thanda offers a superb bush setting that immerses you in the sights, sounds and smells of nature. Each of the 15 tents (even a special one for honeymooners!) has a private sun deck, en-suite bathroom and upscale details like hardwood floors, ceiling fans and supremely comfortable beds. There are shared areas where guests can enjoy a comfortable lounge with wonderful views across the reserve, a spa tent and a large infinity pool. Thanda's skilled culinary staff takes pride in making local South African cuisine available with a wealth of fresh and tasty food on offer.
And to mention but a few of the varied activities Thanda offers you: bush walks, game drives, horse-riding, micro-light flights, fishing, snorkeling, bird-watching, and even star gazing! A boat trip at Isimangaliso (St Lucia) Wetlands Park to see hippos and crocodiles can also be arranged for you.
Safari with a twist – Okavango Delta river safari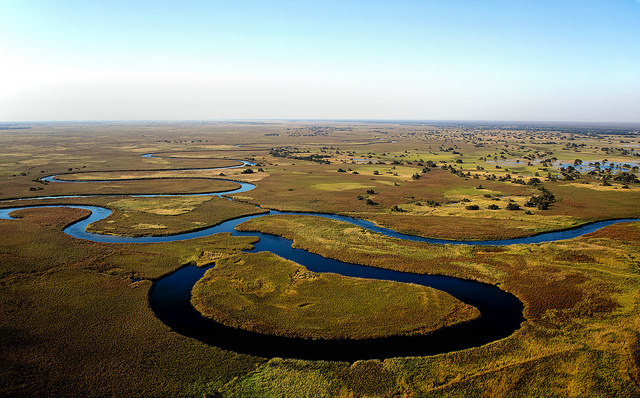 Image source: https://www.flickr.com/photos/water_alternatives/45809564231
The best, and indeed only, way to explore the stunning natural water-world of the Okavango Delta -one of the world's largest inland water systems- is by boat. Starting at Maun and running all the way through to the Moremi Game Reserve, relaxing river safaris are offered by experienced private tour operators on comfortable, canopied custom-designed boats. Vast distances are covered through this amazing natural habitat, basically just drifting along, relaxing on deck whilst game- and bird watching.
And what a staggering array is on offer! Elephant, buffalo, cheetah, hippos, numerous antelope species including lechwe and topi, wildebeest, crocodile, lion, cheetah, hyenas, leopard – even the endangered African wild dog still survive here in encouraging numbers.  More than 530 bird species and 85 fish species have been recorded in this nature's paradise. Comfortable overnight camps are set up by the tour operators, usually on a remote and completely private wilderness island inhabited only by wildlife.
At your wits' end what to do for your next holiday with your teenagers?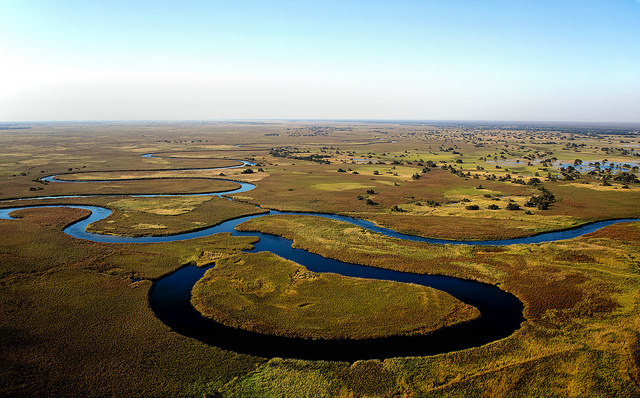 Image source: https://www.flickr.com/photos/rivertay/8503656388
Take them to Cape Town! Apart from its stunning natural surroundings, Cape Town offers many activities that families with teenagers can participate in. This includes seal snorkeling or diving, kite surfing with beginner lessons a priority, and tandem kite surfing sessions with experienced instructors. There are guided kayak trips that cater specifically for the novice kayaker.
And if they (and you!) are really intrepid, you can even do shark cage diving under the guidance of experienced operators.  In less scary mode, but still adventurous, surfing lessons will get your teenagers away from their cell phones and out onto the water. And if you feel like some downtime without them, send them off for one of Educational Robotics's holiday packages that will teach them that all important language of the 21st Century – coding!
Gorilla trekking in Africa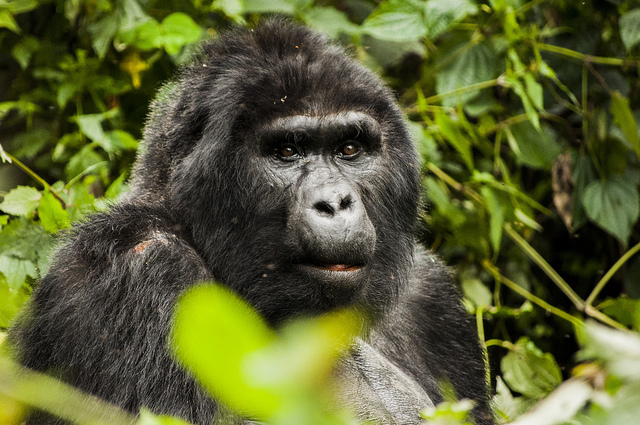 Image source: https://www.flickr.com/photos/jenjader/7649153214/
Dian Fossey's groundbreaking research in the 1960s and her iconic book, Gorillas in the Mist, first brought the plight of the endangered mountain gorilla to the world's attention. Since then it has become an emotionally charged subject. This makes visiting them in their natural habitat a truly extraordinary and almost certainly once-in-a-lifetime experience. Though estimates of numbers vary, there are believed to be fewer than 900 wild gorillas left in the world – mostly in Uganda, the DRC and Rwanda.
To see the gorillas, permits need to be purchased (prices vary) and it is quite a physically taxing experience. Visitors have to footslog it under the guidance of a ranger. You usually carry your own packed lunch, and after reaching the gorillas, you are allowed a magical hour to observe them, thereafter you trek back. These areas also teem with wildlife and butterflies and despite being so close to the equator the weather is normally quite temperate.
Last but not least – possibly the most exclusive and luxurious African destination of them all – Thanda Island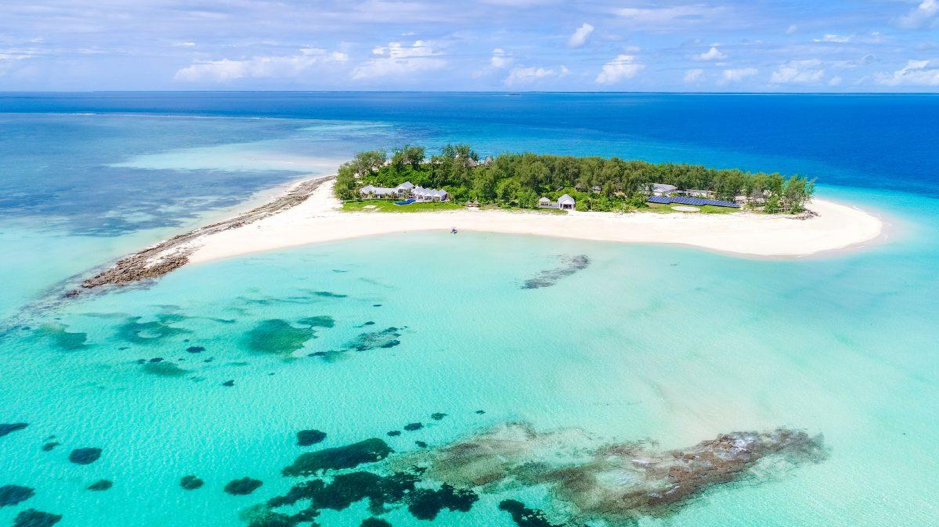 Image source: https://www.thandaisland.com/gallery/
Thanda Island started as a dream to find a tropical island off the coast of Tanzania. And it is still a dream – but a dream come true. It offers you and your family and friends the ultimate in luxury island accommodation to enjoy in complete privacy. It contains a single villa with five exquisite bedroom suites, as well as two traditional beach chalets, or 'bandas'.
As the entire island is at your disposal, children are welcome. A full laundry service is provided, and an excellent private chef ensures food of the highest order – you can even indulge in traditional Swahili or Arabian cuisine! To make your life even easier, you will be met at Das es Salaam airport by the Thanda team, or can you fly in by helicopter.
This magical island lies within the pristine Shungi Mbili Marine Reserve where you can swim, snorkel, dive, even swim with those gentle giants, the whale sharks, and observe sea turtles nesting. A traditional Arab dhow is available for sailing, as is an uber-glamorous 1930s classic yacht! And when you've had your fill of excitement for the day, wind down with a massage or indulgent bath in a copper tub on the beach in paradise.