It is not for nothing that the Turks & Caicos islands are one of the most popular tourist destinations in the world. Boasting hundreds of miles of white, sandy beaches, water sports, fantastic places to eat and plenty of tourist attractions, this British Overseas Territory really does have something to suit everyone. It's a truly beautiful, idyllic part of the world and easy to get to by air. If you're looking to really indulge yourself, then you will find plenty of luxury beach front condos in the Turks & Caicos Islands at great prices.
So why choose a beach holiday in this setting? What can you expect? Well, as mentioned above the Turks & Caicos islands re well-known for being an area of outstanding natural beauty. If you choose a beach front condo on Grace Bay on Providenciales, for example, you will be able to swim in the clear blue waters rated 'best in the world' by Conde Nast and the Sunday times. Here there are many luxurious resorts to choose from, such as the highly popular Coral Gardens where you can do anything from renting bikes and boats to fishing, playing tennis, snorkeling, horse riding or golfing.
Besides the miles of beaches there are plenty of other attractions further inland if you do fancy a break from the water, many just a short distance away depending on which part of the islands you choose. For example, on Providenciales you will find the famous ruins of Cheshire Hall, a 1790s plantation house constructed by British loyalists. At Osprey Rock and Sapodilla Hill you will find remnants of Caribbean pirates. The western half of the island, meanwhile, is most renowned for the Chalk Sound National Park, an expanse of turquoise water studded with many tiny islets.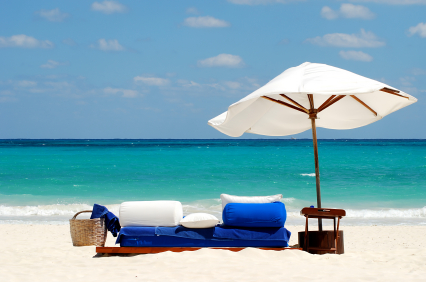 And of course, beach holidays in stunning locations such as this have a huge amount to recommend them in terms of health benefits – provided you protect yourself from the sun of course. For example:
Mood Boosting: It's widely recognised these days that working very hard without taking any breaks can lead to stress, and this can have a negative impact on not only our mental but our physical health. Choosing a beach holiday in a remote location where you can completely leave your life behind for a week or two is the perfect way to relax and recharge. You will come back feeling revitalised and ready to face the daily grind again. And of course, all that vitamin D from the sunlight can also improve your metal wellbeing by boosting the levels of serotonin produced by your body.
Time For You: Many, if not all, of us tend to neglect our hobbies when the business of working, looking after our families and other obligations takes over. A beach holiday, then, can be the ideal excuse to re-connect with what we really enjoy doing. This can be anything from playing sports to walking, reading those books we've had piled up for months, knitting, swimming or even just eating good food. And if you make time for yourself and what you like to do you are far less likely to succumb to depression or other stress-related illnesses.
Exercise: Many think of beach holidays as simply an excuse to stretch out and do nothing at all. But it doesn't have to be this way at all: by all means indulge in good food and wine, but why not take the opportunity to do plenty of mood-boosting exercise as well? The clear, warm waters of the Turks & Caicos Islands are perfect for swimming, or for more leisurely activity you have the miles of beautiful coastline to walk along. Then of course, as mentioned above, most resorts will offer activities such as snorkeling, golf and tennis. Exercise can be just as, if not more so, relaxing than lounging on the sand. It's all about striking a balance.
Good For Your Skin: Finally, if you suffer from bad skin, whether owing to genetics or stress, then remember that the sunshine and seawater can help to clear it up by drying it out and calming you down. You'll come back feeling healthier and calmer, with glowing skin.