Women are sentimental beings. They love to be treated special and pampered by the men in their lives. A happy wife, or girlfriend in this matter, is a happy husband or boyfriend. It always takes two to tango. So make sure you make them really happy this Valentine's day. Here are a few gift ideas that might help.
Sparkly Gifts
Jewelry is love for most women and it would be a marvelous present to give especially on Valentine's Day. They love it, maybe because it adds oomph to an outfit or it's just plain classy to wear something so elegant. So, select timeless and one of a kind pieces that will absolutely win her heart.
Blossoming Love
Surprise her with her favorite flowers. Women just love them because they make them feel special. Not to mention, it is sweet smelling and very pretty too. You can also order fresh flowers online and have them hand delivered at her doorstep or at work , together with a romantic note would really be a nice gesture.
Choco Loco
Women of all shapes and sizes go crazy over chocolates. White, milk, dark, nutty, fruity, you name it, they've all tried it. Give them the really nice ones for a change. After all, it's not every day she eats Godiva, Richert or Debauve & Gallais. Treat her to some really delectable chocolate goodies this Valentine's. It will be worth it.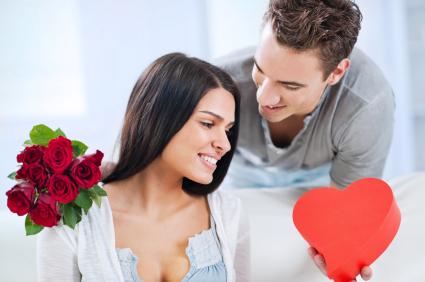 Dinner for Two
A fancy dinner for two in a really nice, cozy restaurant would also be a hit. To avoid ruining your date, book your reservations ahead of time as these restos are jam-packed on Valentine's Day. Give her something to wear too like a sexy Valentine's dress for dinner. That way, she doesn't need to worry about what to wear and you won't be late for your dinner reservation.
Pamper Her
It would be grand if you could spare her a day to relax and de-stress in a spa. Give her all the spa services she needs and deserves: foot spa, hand spa, mani-pedi, whole body massage, body scrub, and the works. She will feel truly loved and special because you made the effort to make her feel and look happy. She will be a new person once she steps out of the spa, for sure.
 Lingerie
Another gift appropriate for Valentine's Day is some sexy lingerie. Know her preference and style so you'll know just what to pick. It's nice if you did a little research to know exactly what she'll like and be comfortable in. You don't want her to end up wearing something she's queasy to try on. Comfort and confidence is key to a steamy night you don't want to miss.
Women just want to be loved and appreciated. Do otherwise and it will be a big problem for you both. So keep them happy not only on Valentine's but always. Remember, if they're happy then so are you. Make everything possible to make this year's Valentine's Day memorable for the women in your lives. It will be worth your while.