Blinds or awnings are a stylish addition to any home. Window dressings are an exciting additional feature to any home to add colour and style. Today, people are spending more time at home and making more use of their outdoor rooms. Entertainment areas, garden areas, patios, BBQ's,  balconies, and decking areas often need defense and cover against the elements.
Blinds and awnings act as a screen to regulate the amount of light entering an area. They help to block out harmful UV rays and the glare of the sun. With awnings your outdoor furniture is also sheltered from harm when kept under cover and so theres no need to be as concerned about their maintenance and upkeep.
Blinds or awnings help to create privacy so giving people the chance to protect, delight and entertain friends and family. Dining al fresco becomes a pleasure because of awnings as eating and drinking under cover now offers a homeowner more luxury and functionality.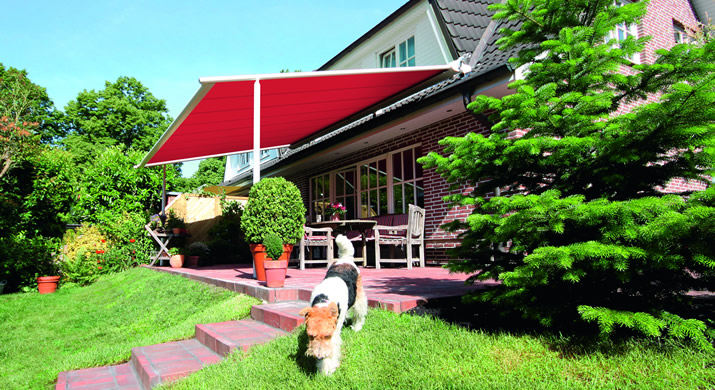 There are is an extensive variety of styles and designs of blinds or awnings. blinds are available in vertical, roller or venetian styles and can transform any room in any kind of way. They can both be installed across your home for added elegance. Whether you are looking for bright and bold or subtle and elegant, both blinds and awnings can add class inside and out.
Awnings can be mounted against your property's wall, or roof above external deck or patio. These above coverings are retractable or fixed structures. They can be manufactured in various styles to ensure full coverage for large areas and completely transform the look of them. They can help to completely change the look of your home swiftly and safely and you will be able to see the results for years.
Fixed awnings are long-lasting fixtures usually connected above windows or doorways and can make any area instantly look more interesting and ensure that its practicality is increased.. These types of awnings can be available in a wedge or curved style. They provide a roof over your head from changeable weather conditions and allow you to keep windows open on windy or rainy days. This extends upon they style and functionality of you home. It also offers sufficient protection for your fittings and other fixtures.
Blinds or awnings can be found in a innumerable number of colour choices and materials to supplement your home decorations. Blinds are manufactured from fabric, vinyl, aluminum, PVC, wood or bamboo to make your house look great. These materials are treated, sealed and water resistant to ensure durability and easy maintenance as well as being able to completely change the look of your home.
Awnings are also available in a multitude of spectacular fabrics such as canvas, polyester and cotton. Colour choices usually come in either stripes or solid tones and they can utterly influence the ambience of your outdoor area. Really consider adding a new blind or awning to enhance the appearance of your home today.