When choosing the right kitchen worktop, there are a multitude of different factors that you will need to consider in guaranteeing that the worktop you select is the right one for you. Worktops come in a range of different materials that have a variety of diverse attributes, ranging from toughness and ease of maintenance to hygienic qualities and heat resistance. Choosing the right one will very much depend on the way you use your kitchen. It is also important that you keep in mind design and style when choosing the right kitchen worktop for you.
A variety of worktops available each have their own very specific qualities so it is paramount that you weigh up all off your options. Here are some things you need to consider when choosing the right worktop for you:-
The Natural Choice:
Granite and Quartz worktops are probably the pricier choices on offer but they can last for a lifetime. Being stone, they natural are very durable and heat resistant. They are also extremely beautiful in any modern or traditional kitchen. It is important to get them fitted by the professionals.
Wooden Worktops:
Usually available in a enormous range of diverse styles, tones and colours, wooden worktops bring a warm and down-to-earth feel to the kitchen. They are traditional and bring a homely style to any kitchen. Wooden worktops are prone to being more vulnerable to marks and scratches but they are easily reparable. They are also fairly priced.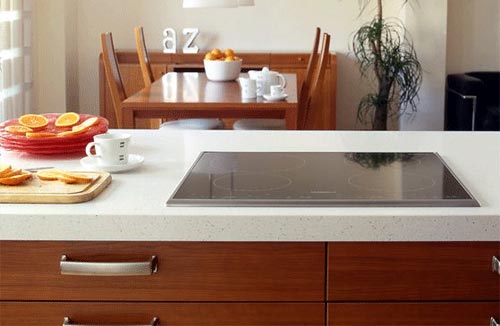 Man Made:
Laminate worktops are the cheaper alternative to the natural choice. They come in an endless variety of styles, colours and sizes because this is a material that is easier to work with. Good quality laminates are very durable, hygienic, flexible and heat resistant. They are suitable to any budget and are available everywhere.
A more expensive man-made option is acrylic worktops. Acrylic worktops offer imaginary build quality and unmatched durability. Pattern choice can be limited as can the choice of effects and finishes as they are expensive to make. Acrylic worktops are typically presented in a wide range of different colours, allowing you to makes an impact. In terms of practicality acrylic worktops remain in top condition for many years, they are almost invincible to the general everyday incidences in home kitchens meaning that they are a brilliant long-term deal for any new kitchen.
So when buying a popular kitchen worktop you do need to think about the materials involved as each have their own unique qualities. This mean that they can bring something distinguished to your next kitchen. Overall however, your decision does need to be guided by your design choice. What looks right in your home is up to you. It's important to match your style to the material that suits your lifestyle too, a busy family home will have different worktop needs to a single person. Matching your worktop with your choice of kitchen is an initial step in working out how to achieve artistic accord in your kitchen.