If you are yet to try jackfruit, perhaps it's time you did. Jackfruit season is here and in India that is pretty big news. In Indian cuisine, jackfruit is used to make a wide range of delicacies, using unripe and extra ripe fruit – and anything in between. Its popularity is growing in the Western world as well.
Jackfruit is a large tropical fruit that grows on trees. In fact, it proudly bears the honour of being the largest tree fruit in the world, with individual fruits weighing up to 35kg.Jackfruit are not to be confused with durian (the former have less of a stink), and taste sweet when ripe and savoury when unripe.
Jackfruitis native to India but is now grown across Southeast Asia,and is making a name for itself in a number of circles. Some suggest it has the potential to replace wheat and other staple crops as a long-term, sustainable food source. And for vegetarians and vegans, the flesh (quite gooey, slightly starchy and smelling a bit like onions) provides a tasty alternative to meat. In some recipes, even the most ardent of meat eaters have a tough time spotting the difference.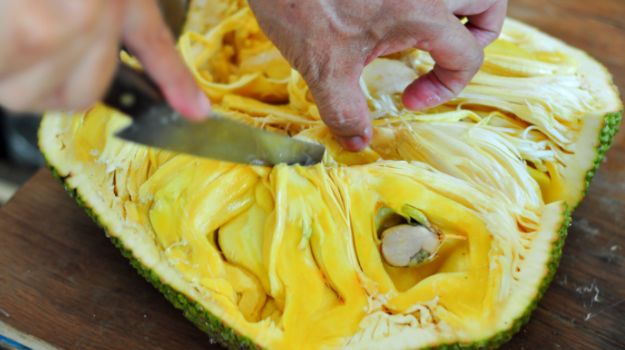 Not bad goingfor a fruit, but there's more:jackfruit is low in calories and high in fibre, can help reduce blood pressure, aids indigestion and can help with eye and bone health. It is packed with potassium, calcium and iron, and has been hailed a miracle fruit by many. It's also delicious and easy to cook with.
When cooked, jackfruit takes on the flavours of other ingredients in the same way tofu does. If you mix it with a blend of southern Indian spices it will adopt the taste of Kerala or Goa. Cook it with a North Indian spice blend and you are transported to one of the country's northern states.
Although it has been a staple ingredient in Indian cuisine for centuries, jackfruit has fallen slightly out of favour in India's kitchens more recently. Jackfruit has (unfairly) earned itself an unfavourable reputation. This could, in part, be down to its appearance – or perhaps its aroma. Equally, the fact that cutting into these ginormous fruits requires a certain level of skill. Whatever the reason, jackfruit needs to find its way back into the hearts of Indians and other communities around the world.Teams currently working in India are looking at ways in which to increase production and better market the fruit.
When ripe, jackfruit can be used to create the most delicious tasting juices and smoothies. It is also used to create sweet dishes – deserts, cakes and ice creams – as well as savoury dishes such as salads. Unripe jackfruit can be used as a vegetable or meat substitute in curries, stews and biryani, as well as be used to make pickles and crisps.
At Masala Zone we are passionate about bringing authentic Indian street food to the UK. All our dishes tell a story of Indian culinary culture – from street food to thalis. Our menu offers dishes to appeal to meat eaters and vegetarians alike and we are never afraid to include lesser-known ingredients.