When it comes to management, there are a number of different theories which have come up over the past few decades. A lot of these so-called "theories" which stick around, however, are actually myths and only serve to create less effective managers in the workplace. If you are a manager or aspiring to become one, this article displays the myths you need to avoid and how management training from an accredited business school can help you – and other managers – overcome them.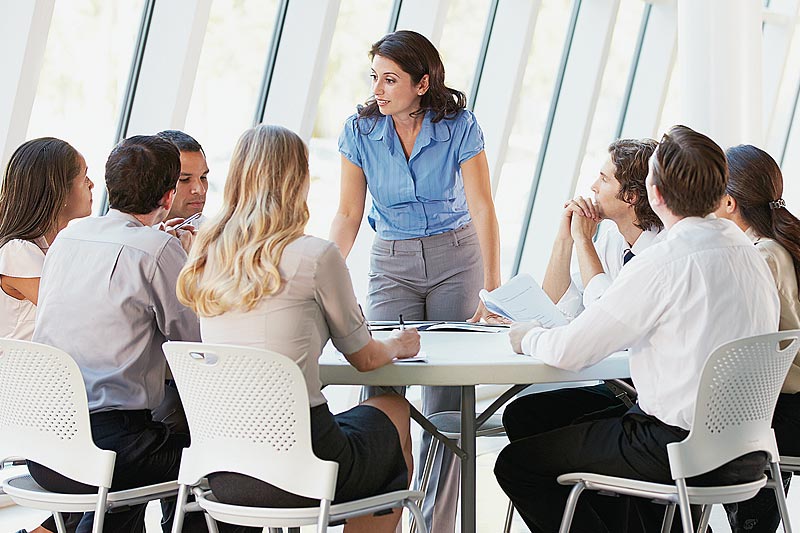 People Are Born to Be Managers and Leaders
This myth is amongst the most damaging which individuals who are considering entering into management hear. One thing is for certain: possessing some particular personality traits right out of the gate can certainly help you recognise that you are suitable for management. But the fact is that anyone with a desire to learn and to achieve his or her management goals can become a world class manager.
How Training Can Help:The best management training courses work on building up a student's existing skill set while also training other fundamental processes and theories. For example, you may not be the best at resolving conflict today. But the good news is that the right school will provide you with the tools you need to become an expert in conflict resolution.
Managers Must Be "X," "Y" and "Z"
A lot of individuals have immediate assumptions about what a manager must and must not be. For example, one common belief is that managers must be willing to cut throats in order to work their way to the top, or that they must be incredibly charismatic and be able to charm employees to get them to work harder.
How Training Can Help: There are some basic skills which every manager should possess to be able to be successful in his or her role, which management training will help with. But if you select the right school to provide the training, managers will be given customised course material which resonates with the organisational culture of your company and ensures that the specific manager's weaknesses are addressed.
Moving Up in an Organisation Is about Whom You Know
This excuse has been perpetuated through the media in the form of books, television shows and movies. There is a strong belief which still exists in many organisations that those who are friends with the "higher-ups" will be promoted sooner simply because of whom they know.
How Training Can Help: Networking is an important part of business and can help you become better as a manager. But it is only the hard workers and overachievers, who have the skills to think outside of the box and successfully forecast, who are promoted and will rise through the business ranks. Training gives managers the skills they need to be able to accomplish their necessary tasks, making them more valuable to leadership and increasing a manager's chance to receive a promotion.
You Should Be Ready to Be a Manager Right after Business School
Many new and young managers believe that after business school they will be able to step into an organisation and begin this thing called "managing." Most of these individuals are in for a rude awakening within hours of their first day on the job.
How Training Can Help: You will be hard pressed to find a manager who says that they stepped out of business school ready and prepared to be an effective manager. Some of a manager's best learning will take place on the job and in the real business world. Managers who face challenges throughout their career, however, can benefit from regular training either online, in the classroom or on-site so they can learn new skills to help them continue to be better managers.
Management is All about Managing People
One of the most popular myths of the 21st century is that management is all about properly managing people. If a manager is able to manage people, it is believed that he or she will be successful in his or her job role.
How Training Can Help: Knowing how to manage people is important and is a large component of management training. However, what differentiates a mediocre business school from a great business school is that a great business school will teach managers how to manage all aspects of a functioning business. These schools tackle the many skills which are required to run or be a part of a successful business, such as how to set targets to achieve business goals, how to effectively communicate with different individuals in different situations, and how to engage and motivate your team.
Management is a Science
As mentioned at the beginning of this post, there are a lot of theories which surround management. Some of these theories have stood the test of time and have proved to generally be true. Others, however, are ineffective and can actually be more damaging to an organisation than beneficial.
How Training Can Help: The best business management schools will teach some basic theory to aspiring or current managers. But what they will also do is stress that each theory may work differently in different business settings and with different individuals in the workplace. More than anything, management is an art where managers will need to be trained how to creatively apply theory to their day-to-day duties in order to motivate and build a high-functioning team.
Leadership is Different from Management
Perhaps the most damaging misconception for a manager to believe is that management is different from leadership. Great management skills make better leaders and leadership skills make great managers. Both are necessary in today's competitive business landscape in order to move up in your career.
How Training Can Help: When looking into your business training options, you will likely see courses for "management" and courses for "leadership." The best business schools will incorporate aspects of both in each business management training program to provide managers with the well-rounded training and understanding necessary to excel in his or her career.