If you're looking to lift the creativity factor at your business, inspire great ideas among your staff or just boost office morale, an office decor update is a great place to start. Whether you're thinking of doing a major overhaul or just making a few tweaks, changing the look and feel of your professional workspace can significantly affect the work produced there. Read on for some tips on updating your office's interior design without breaking the bank.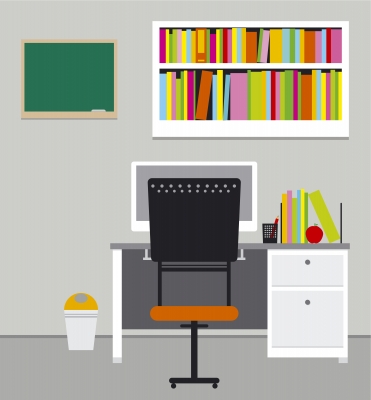 1. Make a Good Impression
When you spend every day in your office, you might start to forget how outsiders view the space. Take a look at how a first-time visitor might view your office and make some tweaks accordingly. These might be inexpensive or even free fixes, like straightening up individual work spaces, adding live plants or making the front-desk area neater and more welcoming.
2. Consider your Culture
Your company culture should be a strong influence on your office design and decor choices. If yours is a tech startup with a casual dress code and a focus on fun, consider incorporating brighter colors and modern furniture into the mix. If you work at a law firm, however, a more serious look and tone would be appropriate. Incorporate traditional furniture in deep colors and straightforward wall colors like beige or pale grey.
3. Paint, paint, paint
It's been said before and will no doubt be repeated again: Wall color is the fastest way to update and brighten a space without spending a ton of money. Depending on the size of your office, you might even be able to repaint it yourself in a weekend. Just don't forget the drop cloths and painter's tape.
4. Narrow your Focus
If you're decorating on a limited budget, acknowledge that you might not be able to redo the entire office space in one go. Instead, focus on updating one area at a time, starting with the rooms your employees use most or the ones your clients always see. Having one area finished will inspire you to continue the upgrades over time.
5. Go Bold with Color
Some of the most unique office spaces use splashes of color to brighten up not just the walls, but also the furniture, desks or even the floor. Even the drabbest space will become more vibrant with a dash of deep fuchsia, burnished red or lime green. Choose two or three complementary shades and incorporate them in your wall color, furniture or throw rugs.
6. Enhance the Ceiling
The ceiling in your office is an often-overlooked opportunity to further develop the statement you make with your décor. Do away with cracks or stains by installing new ceiling tiles, or paint your ceiling the same shade as the walls for a refreshed look. You might even use decorative tiles with a metallic finish to bump up the cool factor.
The above updates are just a few ideas on how to revamp your office space. Taking just a few of these steps will improve your work environment, provide a more welcoming atmosphere for visitors and inspire greater productivity among your employees.