Planning a business trip is not for the weak, let alone planning one that takes place in another country. There are considerably more worries than regular travel – getting to meetings on time, remembering to pack necessary business items and coordinating transportation, to name a few. Here are some tips for planning a smooth business trip.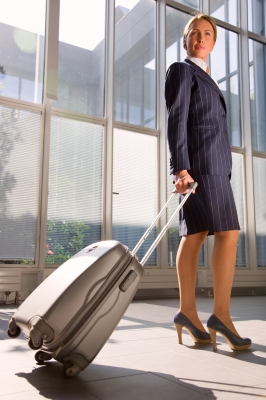 Make Arrangements as Far in Advance as Possible
If you know that client meeting in Paris is coming up in a few months, start making preparations five minutes ago. Book refundable flight tickets in case of cancellations, secure a hotel room close to the meeting place and reserve a rental car. Renew or apply for a passport and update your driver's license, if necessary. Make sure you'll be covered medically under a business travel insurance plan in case an emergency occurs and you need hospitalization.
Don't Forget the Essentials
Packing everything you need for a business trip is much more stressful than planning for a vacation. If you forget an important business item, you can't just go to the nearest supermarket and restock. The week before takeoff, start making a list of everything you'll need on the trip. Include anything you'll need for meetings, like your laptop or tablet, professional clothing, business cards, presentation materials, pens and notebooks. If possible, pack the most important materials in your carry-on bag. That way, if the airline fails to transfer your luggage during any layovers, you'll at least have everything you need for meetings.
Learn the Language
If you're at the point to where you're meeting face-to-face, chances are you've had at least some communication with the client so far. But don't expect them to know your native tongue – make an effort to learn a few key phrases from their language. Start out by purchasing language learning software or audio books and at least learn the basics. If you master that, move on to learning business-related phrases. Even if your speech is nowhere near fluent, the client will appreciate the effort you made. If you own a smartphone, the Google Translate app can come in handy if you find yourself in a pinch.
Know Proper Etiquette
Sure, you know how to carry yourself in your company's work environment, but a business in another country might have a completely different set of rules. For instance, it's acceptable to be late for meetings in Latin countries, but it's rude to be late for a business meeting in Japan. Similarly, certain gestures or topics of conversation that are harmless in America can be offensive in other countries. For example, the U.S. peace sign, with the palm facing inward, is the same as giving someone the middle finger in England.
Business trip planning is exhausting, but not impossible. Making travel plans in advance will take away most of the headache involved. The only thing you'll have to worry about after that is making a good impression on your business associates.