Zombie boot camps are a relatively new activity available for us to enjoy, created following the roaring success of zombie TV series The Walking Dead, and various other cult zombie films. Lets face it, zombies are badass and spending a day amongst them is a dream for most, however if you still need convincing, here are 10 reasons to choose a zombie boot camp for your stag do:
1. Zombies Are Badass
As above – zombies are badass. What guy doesn't think zombies are cool? They are covered in blood and brains, they can't die because they are already dead, they have that cool leg dragging walk and they don't talk, they just moan and groan for 'braaaaaaains'.
2. Your Stag Do Photos Will Look Awesome
Rather than photos with you and your mates in various locations holding a pint of beer, why not add a bit of alternative fun to your stag do photos by enjoying time at a zombie boot camp? Lets face it, a selfie with a zombie is much more exciting than a selfie with your mates – they're boring next to an undead fella with half his face rotted away!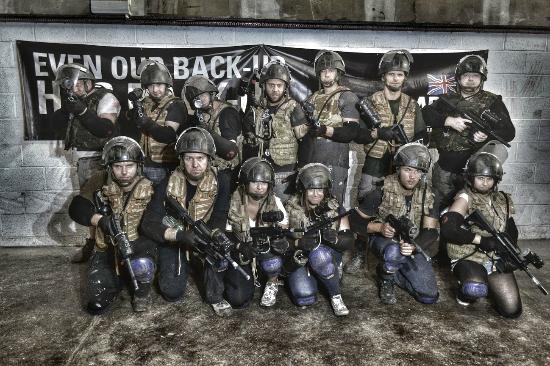 3. You're All Going To Live The Video Game Dream
Plenty of lads enjoy shooting and zombie killing action on Playstation or Xbox, so why not live out that dream in real life and go tackle some zombies? It's never going to be as gory as the games you play, but it's going to be close!
4. Marking The End Of An Era
Your stag do is celebrating your last night of freedom, which means once you're married, things will inevitably change. Of course they're still gonna be your best buddies, but you are going to be a married man, which means it really is the end of an era. For an occasion that is so important, a really cool day needs to be had. Mark the end of an era in style and opt for zombie events.
5. Teamwork
You're a strong friendship group, but how much do you work together when you're in the toughest of circumstances? Battling zombies and being scared out of your mind will no doubt improve your friendship group dynamic.
6. Man Up
Zombie boot camps are not for the faint hearted. Are you man enough to handle loads of blood thirsty zombies trying to get your brains? Test the bravery of your entire group and book into a zombie boot camp, it will sort out the men from the boys.
7. Memories
When you do a zombie boot camp, you can't be drunk – you need your wits about you! Let's face it, your stag night out will be memorable – but you won't remember much of it, so at the very least if you book a zombie boot camp you will have some memories to treasure. Memories that will remain after your sore head and raging nausea have long passed.
8. Fun
A zombie boot camp will be fun, even through the fear you will be laughing inside…
It's the final countdown to the big day, you're stressed from choosing napkin colours, wedding stationery, balloons and about a million other things involved in planning this important occasion. You deserve to have some fun! And it needs to be a high level of fun that is as far away from your day to day life as possible. What could be more different than your 9-5 and persistent wedding planning than a zombie boot camp? Sure you might see senior management as sometimes behaving like the undead, but they are in fact still alive. So get away from all that is real and battle the living dead.
9. A Challenge
Zombie boot camps are a challenge, and therefore an achievement if you complete them and survive! Who doesn't benefit from a physical and mental challenge every now and again? Don't opt for the same old stag do activities that will leave you exactly the same, opt for one that changes you for the better, that makes you really feel like you've achieved something!
10. No Chance Of Bumping Into People You Know
Going on a stag do night out in the local area can mean bumping into people you know – people you want to see, or really don't. It also means potentially colliding with the hen do, which is not a good idea. When everyone is a bit worse for wear, the parties are best left separate. When you attend a zombie boot camp you're not going to bump into anyone you don't want to see apart from the pale looking fellas covered in blood trying to get your brains.