It's a romantic evening, you're strolling along hand in hand when suddenly, he kneels down and pulls out a ring! Excitedly, you hold out your hand and just as the ring slips on you notice that last week's nail polish is chipping off unattractively and you've got a hangnail. You can't post a picture of the happy occasion like that!
Before enrolling at Marinello I had no idea that there was more to nail care than just swiping some polish over them. But any professional nail technician will tell you that well groomed nails make a world of difference to your overall look. So if you think a proposal is drawing near, get to a salon and try out one of these manicures.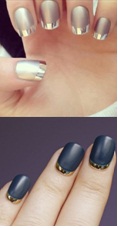 Metallic
Metallic nails instantly catch the eye and look sophisticated. If you're looking for something without sparkles or diamonds but is still noticeable, this manicure is for you. Go for a French tipped style, or a sliver of shine on the nail bed. Even a plain color such as silver or copper can class up your hands instantly.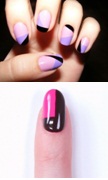 Geometric
Want the freedom to play around with colors and designs? Keep your nails looking cute and interesting with this style. A combination of bright colors in a geometric pattern adds some fun to your fingernails while keeping it simple and easy to appreciate. Now wouldn't a ring look lovely on one of these fingers?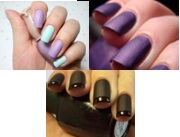 Matte
Sound boring? On the contrary, matte nails give off a romantic vibe. Choose the right color and your hands are guaranteed to attract all the right kinds of attention. Beautiful in its simplicity, matte nails can be spiced up with glossy tips or floral patterns. Either way your hands are ready for an engagement!
Multicolored
Want a different color on each nail? Go for it! Follow a theme like holiday season colors, pastels or primaries. Create a rainbow with different colored tips. It's a fun look that doesn't have to be complicated or boring and a ring can only make it look better.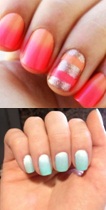 Ombré
Ombré hair had its 15 minutes of fame, now it looks like ombré nails have taken over. A seamless gradient of colors look good on curtains, posters and who'd have thought – nails! Go for sunset themed colors, neons or hues of any color that works with your skin tone. You can't go wrong with this one!
Polka Dots
Polka dot bikinis are certainly cute but polka dot nails are cuter. Bring out your playful side with a combination of contrasting colors. A little bit of sparkle and some diamonds and you'll never want for another manicure.
Try these styles or any combination of them – multicolored matte nails anyone?Your hands are guaranteed to look fantastic when that ring finally goes on. There'll be nocause for hesitation when proudly showing it off to your friends.
A word about maintenance
Going to the nail salon regularly is a great way to keep your nails looking healthy and pretty. But since we may not always have the time, take these steps to make sure you're doing your part at home:
Diet check – it sounds obvious but to maintain healthy nails, make sure you're getting all necessary vitamins and minerals. Take supplements if you need to.
Moisturize– just because nails aren't skin doesn't mean they don't need hydration. Applylotion, hand cream or nail creamon your nails and cuticles to keep them soft.
Clip and file – talon-like nails invite germs, so keep 'em short and smooth by clipping and filing regularly.
Well maintained fingernails instantly show that you care about personal grooming. They also ensure that along with your heart, your hand is ready to be given in marriage. To top it off, a classic French manicure will match your white dress perfectly when the Big Day finally arrives.
Sources:
http://glambistro.com/19755/non-conventional-french-tip-manicure-designs-to-rock-any-time/
http://naildesignsidea.com/tips-on-cute-easy-nail-designs/
http://www.beautylish.com/a/vpyzq/matte-nail-polish