For a new website owner, SEO can be overwhelming and confusing. One wrong step and your website can land in the sack of other millions of uncharted sites, never to be found by any user.
However, using WordPress to build a website has its own benefits including the availability of hundreds of thousands of free WordPress plugins that can be used to extend or improve the functionality of your site. And using these plugins to optimize a site for search engines is no exception.
WordPress offers two most popular SEO Plugins – Yoast SEO and All in One SEO Pack. It has become a common practice for WordPress Website owners to use one of these two plugins for SEO.
But how do you decide which SEO plugin to use for your website?
Well, today's post takes a closer look at these plugins and compare them on the basis of their functionality, features, and various other factors to make the decision of choosing the best one easier for you.
Introduction
Yoast SEO plugin:
Yoast SEO Plugin, formerly known as WordPress SEO by Yoast, is one of the most popular and preferred SEO plugins that was developed in 2010 by Joost De Valk. With years of updates and improvements, Yoast SEO has become an invincible and powerful plugin that powers millions of WordPress sites.

All in One SEO Pack:
Developed by Steve Mortiboy and Michael Torbert, All in One SEO Pack was launched in 2007 and has managed to earn a huge client base. The plugin has been downloaded more than 27,754,451 times till date.

Installation and Setup
It takes a lot of knowledge to understand and successfully integrate SEO plugins into a website especially for those who are not tech-savvy. Thus, it is important for an SEO Plugin to make it convenient for novices to install and configure the settings without having any technical knowledge.
Yoast SEO: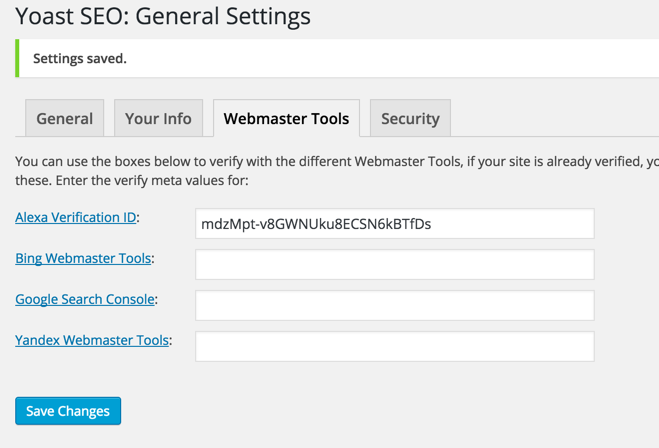 In order to get started with Yoast SEO, you need to first install and activate it. Once you have activated the plugin, you will have plenty of options to configure. However, the plugin makes it easy for you understand these settings and configure it accordingly by prompting to start the tour that takes you from one setting to another.
Yoast SEO plugin's settings page has various different sections where each section further has different tabs. Therefore, it's pretty easy for users to find the necessary settings in the Yoast SEO settings page. Also, in case you are stuck anywhere during configuring the settings, you can always click on the purple Help button to watch a video tutorial.
All in One SEO Pack: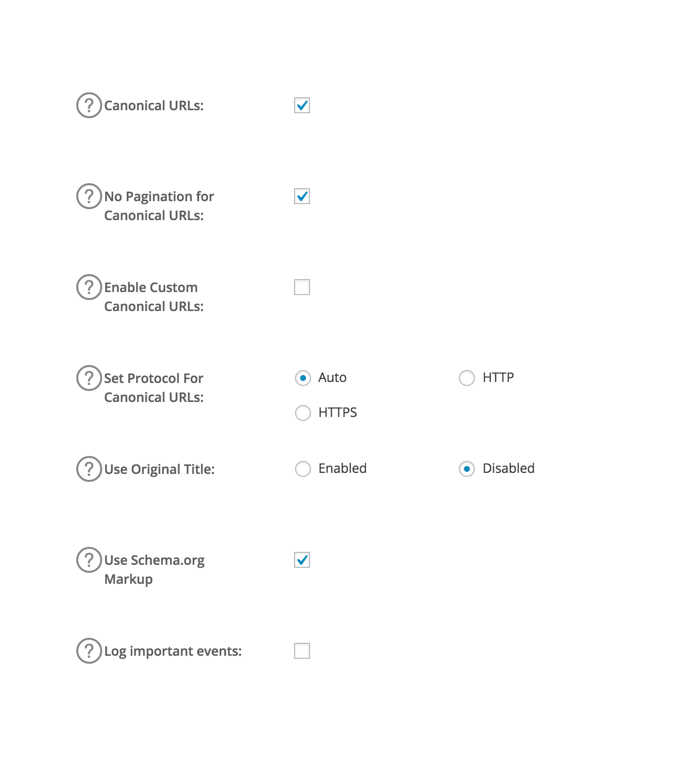 Just like Yoast SEO Plugin, you need to install and activate this plugin. All in One SEO Plugin offers a menu item which holds All in One SEO Pack's settings. It showcases all its settings on a single settings page, which may look overwhelming for some users. The settings page is divided into various different sections, where each section has a specific feature such as display settings, title settings, homepage settings and so much more.
All in One SEO Pack also has a help icon beside every option, which displays a short description.
Winner: With on-screen help options, tour for beginners, video tutorials, and neatly organized settings, Yoast SEO is a clear winner.
Ease of use
The learning curve for Yoast SEO is quite high as compared with All in One SEO Pack, though the learning gets pretty easier with time. The longer you explore the easier it gets. However, the majority of options in both the plugins are almost same. Still, it requires time to understand each option and configure it as per your needs and demands.
On the other hand, you would also need to get your hands on All in One SEO Pack before you actually begin configuring the settings.
Winner: Keeping in mind the learning curve involved in both SEO plugins, it's a TIE.
Additional Features
On-page SEO is an extensive concept which is why it is no surprise to see additional features equipped with these plugins aside from Meta tags.
Yoast SEO:
Yoast SEO is packed with a wide collection of features that cover the majority of the aspects of on-page SEO. Some of the popular features are:
Real-time content analysis functionality

Breadcrumbs

XML Sitemaps

Permalink cleanup

Multiple focus keywords

RSS enhancements

Primary category

Canonical

Robots Meta configuration

Inbuilt .htaccess editor and robots.txt

Import/export SEO data
All in One SEO Pack:
All in One SEO Pack also comes with an array of additional features that improve your SEO efforts and help you rank your site higher.
Support for CMS style WordPress installations

Nonce security

Inbuilt API to allow other plugins to extend functionality

Advanced Canonical URLs

Open Graph Meta Tags

File Editor

XML Sitemap

Robots.txt

Performance manager
Where Yoast SEO does not have Nonce security feature, All in One SEO Pack is lacking breadcrumbs navigation and Google search console data import feature. But still, lacking one or two features does not make one plugin good and the other one bad for your site.
Winner: Again a TIE
Support
No professional support is available for free versions of both the plugins. However, you can ask questions on WordPress.org and get help from other users, but you are guaranteed to get an official response from the developers of the plugins.
Pricing
Though both the plugins are available for free of cost to use with basic functionality and features, you'd have to buy premium versions for additional features and professional support.
Yoast SEO plugin is available at $69 per year for a single site and the price goes up as you keep adding more sites. Aside from professional support, Yoast SEO offers added features such as a redirect manager, multiple focus keywords and supports some paid addon plugins including News SEO, Local SEO, Video SEO etc.
On the other hand, All in One SEO Pack costs $79 per year for unlimited sites license. In the premium version, the plugin comes with premium features such as video XML Sitemap, category SEO options, WooCommerce products and so much more.
Winner: If you have only one site to manage, Yoast SEO plugin is a great option costing only $69 per year for a single site license. However, if you are planning to manage more than one site, you'd probably want to consider All in One SEO Pack which costs only $79 per year for unlimited websites license.
Over to you
Yoast SEO is a feature rich SEO plugin that has a user-friendly and intuitive interface, which makes configuration quite easy. In addition, the premium version of this plugin comes with paid add-on plugins which further simplifies the on-page SEO process.
All in One SEO Pack is one of the oldest and most downloaded SEO Plugin that offers a license for unlimited sites. Though it does not have an organized interface, it has an abundance of features and tools to optimize a website for higher rankings.
Both the plugins have their own pros and cons. It is your needs and demands that will justify the selection of one versus the other.
[themeone_divider style="solid" position="center" width="50%" height="1px" color=""]
[themeone_highlight txtcolor="" bgcolor=""]About Author: Marie Thomas is a professional WordPress developer who has vast experience in developing a web application in less time. She is associated with Wordsuccor Ltd., a leading firm in the field of Custom WordPress Plugin Development. She loves to share her knowledge with others on the web in her free time.[/themeone_highlight]