Everyone likes to think that they are incredibly intuitive gift givers, but the reality is that sometimes you miss the mark and end up giving someone special a total dud of a present. Shopping for outdoorsy types isn't always easy, especially when their favorite activities generally require minimal gear and maximum time lost in the woods. Sure, sometimes all they need is a sense of adventure to make the most of their wildlife exploration, but these gifts for the outdoorsman on your Christmas list are sure to be the best under the tree this holiday season!
A spacious tent
He loves spending quality time with Mother Nature, but that doesn't mean he's always venturing out protected against nature's unexpected odds. Let him camp comfortably and sleep soundly with a roomy camping tent. There are endless options when it comes to selecting the perfect tent for his camping habits. Does he camp often or occasionally? Does he camp solo or with buddies? Does he like to camp in the cold or in the heat? Tents come in all shapes, forms, and sizes to best suit his outdoor habits.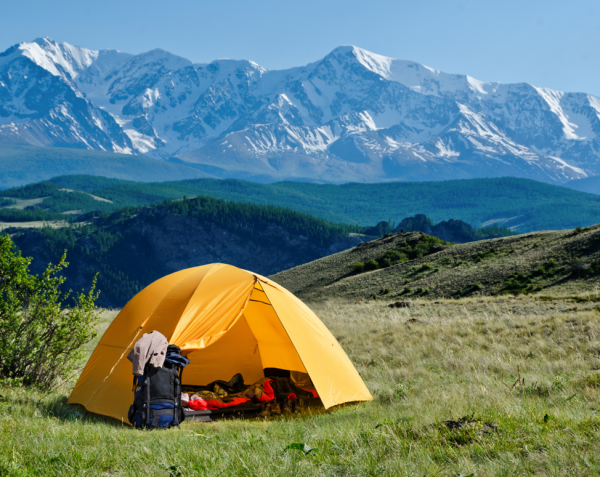 An inflatable couch
If he's more likely to venture out on road trips rather than week-long camping trips, getting him an ultraportable inflatable couch could earn you serious holiday clout. Designed for serial loungers on the go, inflatable couches are perfect for those who love to go off the beaten path and stay for a while. Lightweight and easy to inflate, he'll be grateful for this gift!
A Fitbit Charge 3
You get it—he goes into nature to disconnect and decompress from the wiles of everyday life. Unlike most smartwatches, the latest Fitbit Charge 3 still lets him tune out the outside world while tuning him into his own fitness. Able to track everything from his sleep cycle efficiency to his heart rate, the Fitbit Charge 3 is the perfect addition to his active outdoorsy lifestyle. And for your own peace of mind, the Fitbit Charge 3 can receive text and call alerts if synced with his smartphone.
A reliable pair of trail running shoes
If regular pavement roads have grown old to him, turn him onto new terrain. Trail running has become increasingly popular in the outdoorsy scene, and he deserves to be in the know! From Nike to Saucony, his favorite shoe brands have lines of trail running shoes engineered to withstand all abrasive odds dirt trails may throw at him. Sometimes the perfect gifts for runners are the presents that push them the extra mile.
A GoPro
Anyone who is all about outdoor adventure and action will be all about toting around a GoPro. Since their first model, GoPro has come out with a brigade of action cameras—each manufactured with more advanced technology than the last. You've heard all about his journeys hiking through the Appalachian and backpacking through Europe, but now you can experience it yourself. This simple one-handed camera lets him document his every move and savor his most cherished memories with just a click!
A survival kit
Looking for a stocking stuffer for the outdoorsman on your gift list? Most wilderness survival kits come in stocking stuffer size! It's always better to live on the safer side of life, and the Z.A.P.S. Survival Grenade is the ultimate wilderness life hack. Equipped with matches, duct tape, line, a compass, water purification pills, and plenty more, this Grenade kit clips right onto his backpack without a hitch.
An outdoor enthusiast subscription box
Subscription boxes aren't only for women who love doing their nails! There are plenty of subscription box options for your favorite outdoorsman that will have him looking forward to a new package each month. Whether he's into solo fishing trips at the lake or family camping trips in the mountains, Cratejoy.com offers a number of specialized monthly boxes tailored to his most loved hobbies.
A really good book
Odds are pretty good that when he goes into the woods to escape the hustle and bustle of the real world, he's looking to get lost in a totally different world. Be his bookworm buddy and snag him a book from Penguin Random House's list of books you should read outside. From "The Call of the Wild" by Jack London to "Jurassic Park" by Michael Crichton, introduce him to the timeless wonder of fictional universes.