If your new year's resolution was to get fit and you've already decided that the gym is just not for you, then chances are you might prefer the great outdoors. Gyms are not for everyone. Watching rows of body-builders bench-press, or running in the same spot for one hour can feel both intimidating and monotonous. If you're looking to shake things up a bit and get out into the open, here are some possibilities to try.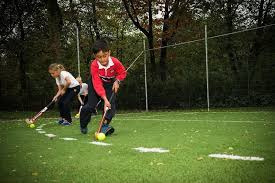 Tennis
Joining your local tennis club or hiring a court with some friends allows you to take up the sport one step at a time. Taking a few lessons will get the basics of an overarm serve and backhand down, and after that improvement just takes practice. Finding something new to do with friends also gets everyone talking outside the noise of a loud bar and might create more laughs than a night in a club.
Golf
If your bailout of the gym was mostly down to hating cardio exercise, then there are still options open to you. Take yourself to a driving range first and get out on the green hills of a golf course. This can be a great way to spend your weekends, and tone your arms in the process. You can improve your skills over time, and keep active as you will likely be covering miles with every round of golf you play. Make sure you find suitable golf apparel so you can play in both comfort and style. The right clothing is essential so you aren't slowed down in any way.
Horse riding
Horse riding isn't necessarily reserved to those who own a horse or have been doing it since childhood. It's accessible to any age, and if you're looking for something truly different to try, this is a great option. Although it is said that if you're closer to middle age, you'll have your work cut out when it comes to training the muscle groups, it's still a viable option. Although it takes more commitment than getting on a treadmill, it's a great option for horse-lovers who feel they never got the opportunity to take up the sport.
Basketball
For those who are really missing the team aspect of a sport, then something like basketball will get you thrown into the team spirit. Learning how to dribble to ball and score some baskets not only teaches you the art of practice and patience, but also gives an enormous sense of achievement once you land your first shot – or maybe even slam dunk. Of course, it also comes with all the bonuses of doing any form of energetic exercise.
It's never fair to equate health with a gym membership. What makes for a long-term hobby or even the enjoyment of a sport is one that you want to turn up for again and again. Finding an activity that resonates with you and makes you tick means there might be no more need for New Year's resolutions – for exercise, at least.