Technology has now allowed media files to be relocated across millions of portable devices and due to this protocol we are able to move music-related material on digital audio players. These audio players were earlier available in the form of CD players and mobile audio systems but today, we are able to store and listen to music efficiently using iPod, iPhone and Macintosh devices. Today's we will talk about a cool software named Coolmuster that allows users to transfer music from iPhone, iPad and iPod to Mac.
Coolmuster offers a number utilities including Data Recovery tool for iOS to help users recover lost or deleted files in iPhone, iPod and iTunes in safe, efficient and reliable way; Android Assistant to manage Android data plus Lab.fone for android to handle recovery jobs. However, we will talk about the tool's ability to transfer useful files, primarily music content from Apple devices such as iPod to Mac computers.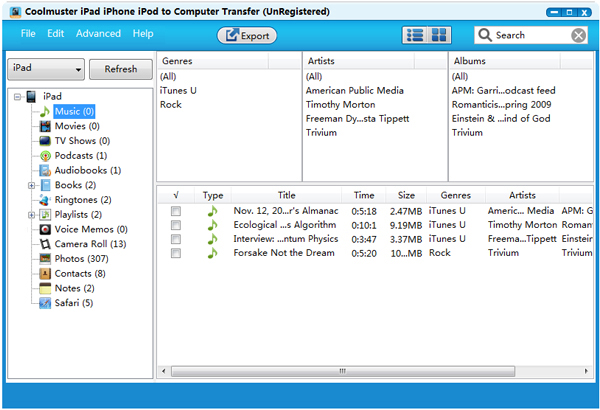 Using Coolmuster, you can easily transfer music from iPhone to Mac. But this is not it as you will also be able to copy music from iPod to Mac. Whether you lost all files after a system update, broke your phone or simply want to copy all your music from 'iDevices' to Mac for backup reasons, then Coolmuster is all you need.
User can export all music and manage the playlist on Mac as necessary. The transfer tool has different view modes designed in order to match users' needs. It does not require any external software to function and is 100% compatible with iPhone 6/6 Plus, iPhone 5s/5c, iPhone 5, 4S, iPod touch 5, iPod shuffle, iPod nano, iPad mini and iPod classic.
So how does the user transfer music from the iDevice to Mac?
We all like to keep our personalized list of music in our portable music devices. However, there are times when we need to share our song's list with family or friends or want to import our music content in software that are available only on PC. To do this, you have to export songs from your iDevice to Mac for backup or music sharing.
To transfer music, follow the below guidelines:
1. Install & Setup iPhone to Mac Music Transfer
You first have to download the transfer tool and install it as per the instructions given. The download is available for free and once you're done, you have to click the icon in order to run the program on your Mac.
 2. Transfer Music
This is the main part of the process where you convey your desired music files from iPhone/iPod to Mac. Click on the 'Music' option to open the music library folder on your iDevice and you'll see all the files visible in the right panel. Your music files will be displayed including type, song title, song duration, genre, artist name and file size.
Select and check-click the songs after which press 'Export' in order to begin transfer. You may also have to press 'Check All' if you want to send all your songs to Mac. Once the export process is completed, you can open the folder to move it into whichever folder you like.
What's New in iPhone to Mac Transfer?
As you have already seen, you can use the transfer tool to move your favorite music from your iPod/iPhone to your Mac computer but this is not it. This tool is compatible with all models of the iPhone and also supports iPad devices. So if you're not the iPhone type, you can use Coolmuster Transfer tool to backup data for your iPad and iPod.