When there is not much moisture in the air, frizz is born. But at times, excessive humidity can also cause frizzy hair. All through the day, your hair loses a lot of moisture. Most women are struggling with frizzy hair. If you are one of them, try out the following tips to defrizz your hair.
Choose shampoo that is free of sulphate and has glycerine – When seeing the list of ingredients on the back of the bottle, make sure glycerine is a part of it. This helps to fight frizz by going deep into the shaft of the hair and giving it moisture from inside out. Glycerine also provides for a protective layer over the hair shaft for the hair not to break.
Conditioning should be a must – The work of a conditioner is to add moisture to the hair otherwise the hair cuticle will let moisture go off, and the hair thus becomes frizzy. Go in for a conditioner, which has glycerine and also other very hydrating items like butter. Apply it all over the hair from midshaft to the ends but do not apply to the roots.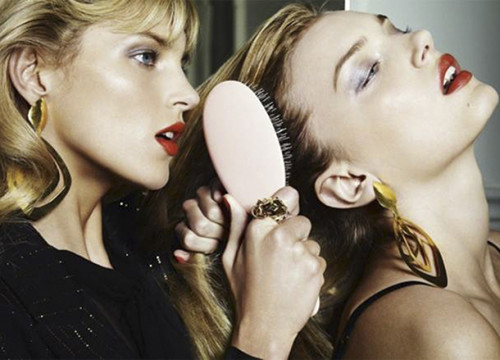 Once a week, instead of shampooing, use the conditioner alone – Most of us wrongly think that our hair needs to be washed at least three to four times a week, but this is wrong. Once every week, apply conditioner in place of shampoo and wash off thoroughly. Conditioners have surfactants, which shampoos too have, so it will both clean your hair as well not remove its natural oils.
Once a week, apply hydrating mask – At least once a week, you should indulge in a special treatment, especially during winters when the intensity of frizz is much more. Apply a mask, which has silk proteins, glycerine, and smoothing ceramides. All of these will effectively fight frizz.
Do not blow dry directly – Always blow-dry at least after your hair is 90 percent dry naturally. When you blow dry directly on wet hair, the strands get dehydrated and hence frizzy hair once again! This is specifically the case in winters when the air does not have much moisture.
Brush them regularly – Do not be a lazy bum. Brushing hair daily means distributing natural oil from scalp to rest of the hair. This will keep the hair hydrated and help block humidity.
Apply oil as often as you can – Apply any oil, which suits the texture of your hair as it is very important to keep hair oiled. This is another way to bring in moisture in the hair and keep them hydrated.
Tie the hair into a bun and also use a curling iron – Once you are done with shampooing, conditioning, and have applied oil all over the hair, gently blow dry them and tie into a back bun. See that the bun is tight. This way your frizz will slowly and gradually disappear.
And if you still feel the frizz is getting out of control, visit hair treatment clinic in Gurgaon and get your hair inspected by a hair expert!