Saving energy all year round is now a breeze with ceiling fans. With most using only as much power as a 60 watt light globe, you can feel the cool for as little as 2 cents per hour. On hot summer days, a ceiling fan working together with an air conditioner reduces your running energy costs by up to 40%. And here's a warming thought for winters – a ceiling fan with reverse mode of circulation warmsthe air downwards, lowering heating costs by up to 10%.A fan does not directly cool the air; it works by helping circulate the air better. It creates a breeze that prevents any hot pockets of air to form and thus making your room feel cooler. Everyone knows that a gentle breeze on a hot summer day works wonders. Negligible noise and maximum comfort makes ceiling fans perfect for living, bedroom and kitchen areas.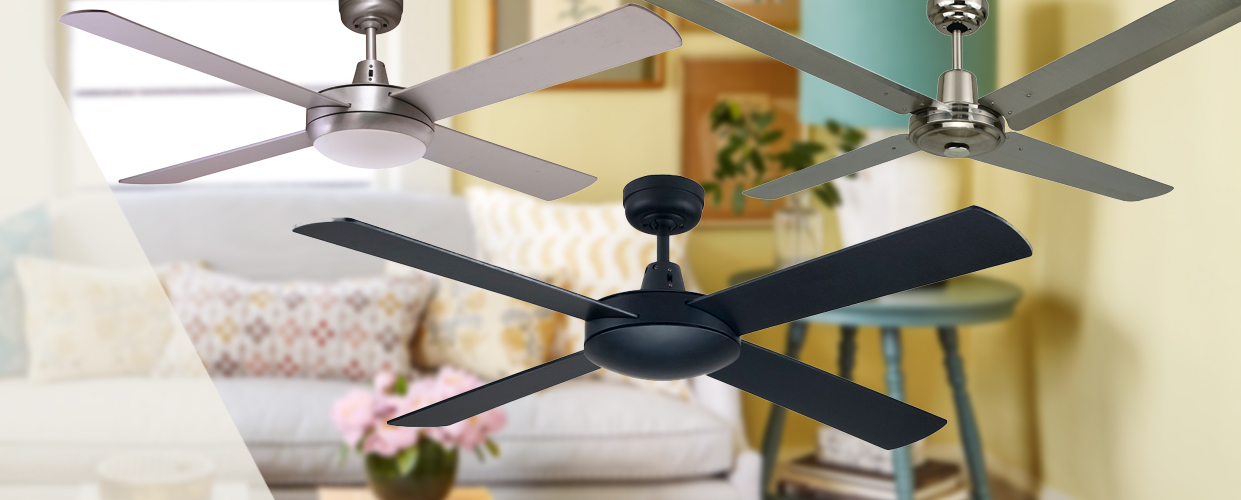 Till date, ceiling fans were only supposed to provide fresh breeze of air in warm weather. But with the progression of technology, they can also provide light in your room. Shocked! It's true. Modern day ceiling fans are coming up light fixtures installed in them commonly known as LED ceiling fans. Fans on the ceiling were already offering comfort in your home. But with the extra advantage of light, they are becoming more and more suitable because they keep the room cool and also lights up the room.Traditional light bulbs emit a high amount of heat, keeping the rooms warm all the time. So, even if you have ceiling fans on, it completely defeats the cooling purpose. But with LED Ceiling fan, this problem is even resolved. LED lights are bright, but they don't emit high heat which makes them energy efficient and long lasting. Also, they don't warm up the room, unlike conventional bulbs or lights.With attractive blades, fans come in other colors and textures which enhance the beauty of any room where they are installed.

Importance of modern ceiling fans in the home
While the Air Conditionershave given a lot ofcomfort to the people, ceiling fans have their own space in the lives of people. No matter how rich any individual is, you will surely find at least one fan at his home. There are diverse types of modern ceiling fans available in the market that are different from traditional ceiling fans and offer brilliant air in the room. When you are designing your house, you should ask to the interior designer about the fans. Usually, designers provide the guidance about the fans and you can take their offers acutely.
Things to consider while choosing LED ceiling fan
Down light are mainly installed on top of the fan's motor cover and project light up onto the ceiling for visual reason and to create ambiance. LED down light often known as "light kit" add ambient light to a room and it can be used to replace any ceiling-mounted lamps which were displaced by the installation of a ceiling fan.
However, choosing the right ceiling fan isn't just about selecting the right color and style. There are different other factors that you must consider while selecting a LED ceiling fan.
First and primaryfactor, you must consider is the size of the room and the ceiling's height because then you can decide which type of fan will be most suitable for your room.
Secondly, you will be required to consider the quality of the fan. You should select a fan of superior quality.
Thirdly, you should choose a fan which is cost efficient.
You should make sure that the fans you select are operatingbrilliantly. If you have a big room, you may require multiple fans too.
You must not forget to buy the ceiling exhaust fan too for the absolute ventilation of the air in the room. It will help you to get the fresh air flows in diverse weather conditions.
Benefits of having a ceiling fan in your house
There are several benefits of incorporating ceiling fans into your home's design that go beyond cooling off a room. Using ceiling fans throughout the home greatly reduces energy costs, while also providing comfort, style and beautiful lighting.
These are the top benefits of ceiling fans which include gains in both fashion and function.
Ceiling Fans Lower Energy Costs
Ceiling fans helps in lowering your electric bill by up to 30 to 40 percent. While a ceiling fan doesn't really decreases the temperature of the room, the breeze makes the room feel cooler – allowing you to raise the thermostat and to be comfortable.
Tip: Energy Star-rated fans are 60 percent more efficient than conventional fans and light units, offering extra energy savings.
Ceiling Fans Are a Style-driven Accessory                   
The fans are available in a variety of sizes, styles, and finishes to complement your exclusive interior style. Fans are more than just functional; they can be served as a statement piece or focal point of a room.
Tip: Interchangeable blade sets allows you to easily re-invent the design of your fan without replacing the entire unit.
Ceiling Fans Offer Versatility From Room to Room
Whether it's the living area, bedroom, screened-in porch or kitchen, ceiling fans contribute to apleasant environment in almost every room of the house. In addition, the more fans used all through the home, the greater the savings on your energy bill.
Ceiling Fan Provides Beautiful and Functional Illumination
Ceiling fans with lights allow you to contribute to the layered lighting design of your room. Choose a fan with a built-in light facility, or easily install a fan light kit, for general illumination benefits.
Tip: Choose a light kit that coordinates with the fixtures and appliances in other areas of your house.
Ceiling Fans Add Year-round Value
Many people are not aware that ceiling fans can also be used to circulate warm air during cooler months of the year. By running the blades clockwise, ceiling fan pushes warm air down from the ceiling without creating a draft.