The free agency period for the National Football League has been open for several weeks now, and there are still several high profile players who are actively looking for teams. From a fantasy football perspective, there are certain landing spots that are more attractive than others. If you are already starting to plot your draft strategy for the upcoming fantasy season, here is some food for thought to help you nail it this year.
Adrian Peterson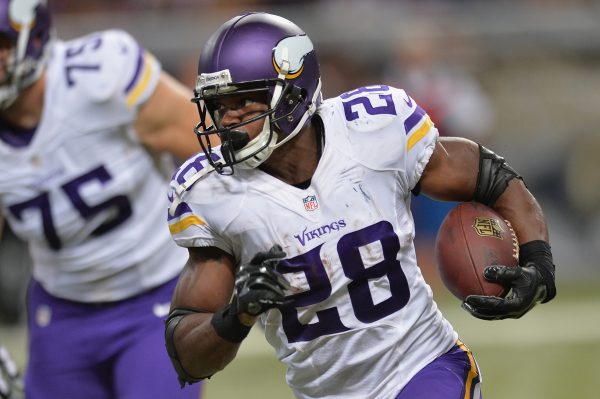 All-Day may be the highest profile free agent who has not been able to land a deal this offseason. While rumors circulate the former Pro Bowl running back is looking for more money than most of us would hope to win in the lottery, there are still some options available for the aging Running Back. The likes of New Orleans and Oakland both seem to show palpable interest, so there are a few different landing spots where the running back may be able to rack up huge fantasy numbers. One of the top destinations for him is the Oakland Raiders. The team has one of the top young quarterbacks in the National Football League, and they currently do not have a star running back in the backfield. The offensive line for the Raiders is also another reason why fantasy owners should hope the Raiders take a chance on this former Oklahoma Sooners star.
Jamaal Charles
The Chiefs have given up on the often injured running back out of the University of Texas, but the former Longhorn may still have a little bit of gas in the tank for fantasy football owners, if he can sign with a team that knows how to utilize his diverse skill set. Charles is one of those running backs who can rush for 1,000 yards in a season, and he can also catch 40-50 balls out of the backfield for bonus points. Charles would be a good third down back for the Patriots, a team that is always looking for players that offer solid value.
Tony Romo
One of the most fascinating and over-reported stories of this free agent period is the fate of the Cowboys' now backup quarterback. If the Cowboys are indeed willing to let the QB explore his options on the free agent market, he would be a good fit for either the Texans or the Broncos. Fantasy owners may want him to sign with the Texans, so he can team with a group of high-powered wide receivers that may help him put up big points. One scare for fantasy owners is Romo's reported interest in joining CBS as a broadcaster.
Jimmy Garoppolo
A final player that fantasy owners should keep an eye on is the Patriots' backup QB. Jimmy G, as he is known around the league, is a player who is looking to turn a few starts into a humongous contract. Fantasy owners should hope and pray that he does not land with the Cleveland Browns and their dumpster fire of a team. The best fit for Jimmy G for fantasy fans is probably staying with the Patriots as a handcuff player for Tom Brady. The aging quarterback may miss some games, and Jimmy G could put up huge numbers again.