Xiaomi is one Chinese brand that is loved by everyone in India because of its affordable pricing and amazing features. Though like all Chinese Brands, they copy iPhone, yet Xiaomi has made niceand quality gadgets. Lightweight, powerful, and beautiful are the qualities what Xiaomi devices are known for. Xiaomi Redmi Note 3 Pro comes in two variants 16GB/2GB Ram and 32 GB /3GB RAMwhereas other specifications remain the same for both of the devices. It comes with a light, yet heavy and powerful battery of 4000mAH. What else they have to offer, let's dig deeper!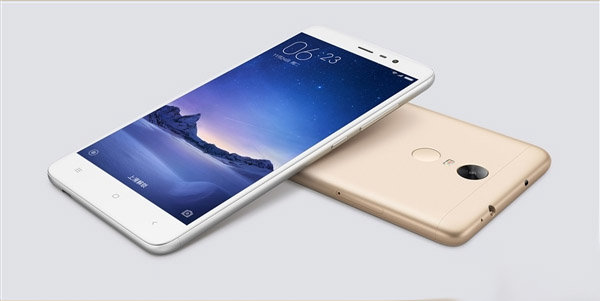 Design and Display
Redmi Note 3 Prohas a full metal body and is very classy.Build quality of Xiaomi Redmi Note 3 Pro is very good and feels premium in the hand. Upfront you get 5.5 full HD display with a resolution of 1920×1080 pixels with pixel density of 401ppi. Pixel quality is great and colours appear very natural. Xiaomi Redmi Note 3 Pro comes with IPS LCD display and weighs around 164 grams. It will be available in 3 brilliant colours Gold, Silver and White. For all the people who are not good at handling smartphones, this device is protected with a scratch resistant glass.
Talking about the physical appearance, on the front side, there is a camera above the screen with no LED flash. Below the screen, lie the three capacitive keys with back key on the right. 3.5mm headphone jack is present at the upper side of the phone. Next to it lies and Infrared (IR)blaster which is an interesting feature of this device. On the left side lies the dual SIM tray, there is no SD card slot in this phone; hence, the 16/32GB memory is not expandable. There are power key and volume buttons on the right side.
The back cover of the phone is non-removable and so is the battery. There is anultra-fast fast fingerprint sensor at the back just below the 16MP camera and dual LED of the device. All lie vertically in the top centre.
Performance :
Like all other Xiaomi phones, this phone also rocks in performance. Xiaomi Redmi Note 3 Pro is powered by 1.4GHz hexacore Qualcomm Snapdragon 650 processor. It launches the app in split seconds. There are two variants of the device, one has 2GB RAM and 16 GB internal memory and second has 3 GB RAM and 32 GB memory.For powerful gaming experience, it uses Adreno 510 graphics processor. Performance wise, you won't be disappointed by the device.
Software:
The software is the area where we are quite surprised by the device. Xiaomi Redmi Note 3 Pro doesn't run on latest Nougat(7.0) or even Marshmallow (6.0) but runs on Android Lollipop (5.0.1), which seems very old for this new device. There is also Xiaomi's own UI MIUI7 on top for further improvements to the device.Xiaomi Redmi Note 3 Pro has an additional feature of eye protection mode in this device which reduces the blue light of display and thus won't strain your eyes due to continuous usage. It also has a night mode, which adjusts the brightness of the device. Both the features are very useful.
Camera:
Xiaomi Redmi Note 3 Pro sports 16 MP rear camera with CMOS Sensor. The camera is extremely fast, and you will never miss your favourite moments. For low light conditions, it has two-tone LED flash. There is HDR mode plus 12 preinstalled filters for beautiful photographs. You can also record full HD video with this device.
For video calling and selfies, there is a 5MP front camera with no LED flash.
Storage:
Xiaomi Redmi Note 3 Pro comes in two variants of 2GB RAM /16 GB internal memory and 3GB RAM /32GB internal memory. Both the devices are unfortunately non-expandable.
Battery:
The battery is one more area in addition to a performance where you don't have to worry. Xiaomi Redmi Note 3 Pro comes with a huge 4000mAH battery which easily lasts a day and a half. Surprisingly, the device weight is not affected by such big battery which is really impressive.
Connectivity:
Xiaomi Redmi Note 3 Pro is a dual SIM(4G + 3G) Phone with SIM tray located on the left side of the side. Itcomes with an IR blaster, which can act as remote for various devices like TV, AC, etc.
Price:
To be launched in next few months, Xiaomi Redmi Note 3 Pro price in India is expected to be Rs10,990.
The verdict:
Xiaomi Redmi Note 3 Pro is a phone with great build quality and impressive camera at this range; however, we are not satisfied with the software which is old Lollipop. We hope Xiaomi updates the device to the latest software Nougat. Rest, the battery is juicy and won't disappoint you. It gives an amazing performance; the camera is nice, and fingerprint sensor is also very fast.