Japan has always been seen as a great vacation spot for people with all kinds of interests. Its popularity as a skiing destination is growing rapidly as it attracts a large number of foreign tourists every year. Here are the top ten reasons that you should ski Japan:
1. Numerous Resorts
Comprising of over 500 resorts to boast of, Japan some of the best ski terrain the world has to offer. Whether it's because of fantastic powder, spectacular backcountry, groomed slopes, long fast runs, huge snow parks or even gentle wider slopes for beginners, Japan has so much to offer.
2. Deserted Runs
Some of the main reasons why Japan, as a ski destination, is growing in popularity is because of the wide deserted runs that are available all over the country. You can enjoy your skiing trip without the huge crowds that you would normally see in North America and Europe. Even though there are resorts and ski areas that have become internationally renowned, the majority of the ski areas do not receive many visitors.
3. Night Skiing
Night skiing is an exceptionally exhilarating and thrilling experience. This has become a popular activity with many visitors and in Niseko this has become a must-do. The majority of the mountain's ski area is open until 9 p.m. Great if you want to enjoy knee deep powder covered runs on deserted slopes.
4. Great Snow
Having some of the world's lightest, driest and deepest champagne powder snow is found on the Japanese slopes. Huge quantities of snow are dropped by winds on the west coast. Water quality gets as low as 8% and the country also receives 18 meters of annual snowfall.
5. Relatively Low Cost
Even though the country has a general reputation for being one of the most expensive destinations in the world, the general costs of skiing the resorts are lower than most traditional ski destinations.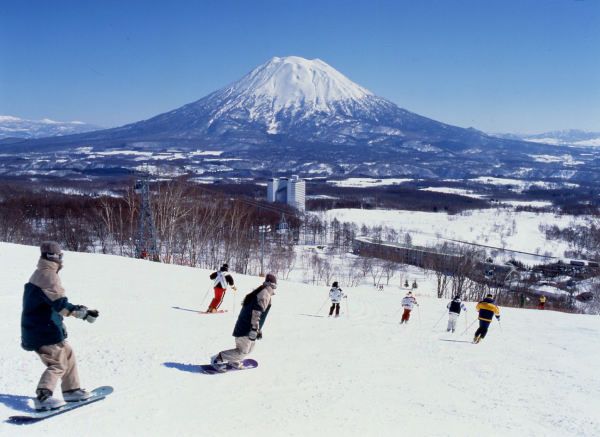 6. Hot Springs
In Japan, hot springs are commonly referred to as onsens. The geothermal activity throughout the country provides plenty hot springs in most of the resorts. These onses are the perfect spots to lie back, relax and unwind after a tiring day of skiing and snowboarding and have therapeutic benefits.
7. Great Food
Japan has some fantastic variety for food. Apart from the traditional Japanese food that is offered in every ski resort such as Sushi and Tempura, there are many resorts which also offer different ethnic dining options, ranging from Mexican, Thai to Western cuisine and they are all absolutely delicious.
8. Hospitality
Japan is renowned for its impeccable service they provide to all guests. Japanese people are often very polite and offer warm, friendly service to everybody. As you are a guest of the country, they will make every effort to make you feel welcome and relaxed in their surroundings. This alone has made it become one of the world's leaders in customer service.
9. Numerous Festivals
Snow festivals are held all over the country during Winter and are a spectacle that must be seen. They give great insights into traditional Japanese culture and the food, snow sculptures and festive atmosphere are a treat to behold.
10. Culture
Japan is one of the oldest culture on the planet, over centuries they have mastered the art of culture and lifestyle. Today it is seem as a technological and developmental hub, but its traditional customs and culture is extremely prevalent. This unique culture and lifestyle will surely captivate any visitor to the country.
Author Bio:
Ski Japan specializes in providing Japan ski travel packages that cater for all levels of skiing and snowboarding enthusiasts at some of the best prices in the market.
The experienced team at Ski Japan have first hand knowledge or skiing and travelling in Japan and are eager to help create the ski travel package right for you.
Contact the Ski Japan team at SkiJapan.co.uk and get your next Japanese ski holiday started