Winters mostly make you lazy as you always want to be in your cosy blanket. But, winters are also the season to eat tasty and healthy food. Since many people complain about indigestion in summers. Many times you also don't want to go in kitchen but the family members always demand tasty food and it becomes your responsibility to make it healthy as well.
However, you can take a leave from kitchen occasionally and order food online since you should also get the right to enjoy winters in cosy blanket along with the responsibility of feeding your family with healthy and tasty food every day. You can also make the most of FoodPanda coupons and compliment the frugal nature of a home maker by saving money.
Now, let's put on your colorful cardigan and cap along with apron and get ready to try out spicy paneer Bhurji this winter and get compliments for a simple to prepare recipe.
Ingredients for Paneer Bhurj –
Paneer or Cottage Cheese coarsely mashed
5-6 finely chopped onions
4-5 ripe finely chopped tomatoes
1-2 finely chopped green chillies
4-5 cloves of garlic finely chopped
2-3 tbsp finely chopped coriander
1½ tsp coriander-cumin powder
1½ tsp garam masala
1½ red chilli powder
1½ turmeric powder
Salt to taste
1 bay leaf
2 cloves
A pinch of asafoetida
Preparation Method –
Heat oil in a frying pan and when it becomes hot add cloves and asafoetida and let it crackle.
Now add garlic & green chillies and let it turn golden after that add chopped onions.
Let the onion turn golden and then add tomatoes and cook them till they start shrinking.
Now add all the spices like turmeric powder, red chilli powder, garam masala, coriander-cumin powder and salt. Mix them well and cover it with a lid to cook till it starts separating oil.
Add paneer to the mixture and mix it well. Cover it again for 7-10 min on low flame to let it cook properly.
Open the lid and cook for 2-3 minutes more. Add finely chopped coriander and serve it hot with roti or paratha.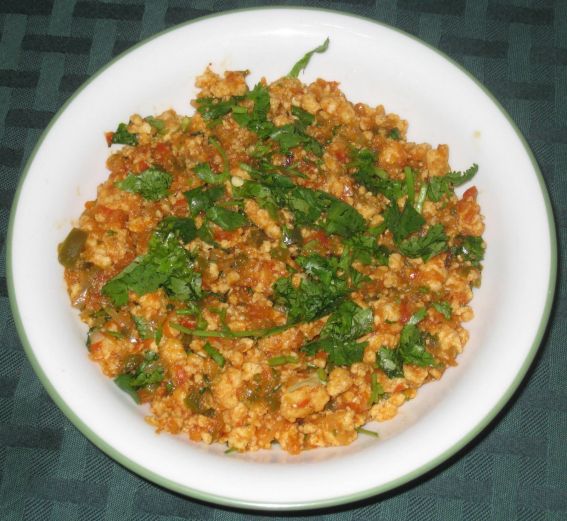 The spicy Paneer Bhurji is easy to cook recipe even a novice can prepare it without mistake. However, cooking is a hobby or fun for many people but one cannot do a thing all the time. Take rest from kitchen and order food online with Tastykhana coupons for saving money and stealing some moments to take rest. Eat tasty and stay healthy this winter while enjoying the season with days basking in sun and nights in cozy blankets.