Swiss company announced a new security app Threema is a mobile messaging app that puts security and privacy first. With true end-to-end encryption, This new app will be available on major operating systems Google (Android), Apple (iOS) and Microsoft (Windows Phone), The features are pretty much those editions for Android and iOS. The still present limitations in group chat will be eliminated soon an update.Threema could be the lack of a trial version, but running only $. 99.
According to the developer corresponds to the functionality of the Windows Phone version largely to the expenditure for Android and iOS. However, are currently not yet support all group functions. So it is not yet possible, even to create new groups. This functionality is to be upgraded soon with an update.
Just like its Messenger for Android and iOS raises Threema especially the security forth. All messages are consistently encrypted end-to-end from sender to receiver. This is true both for chatting and for submitting photos, videos or locations. Technical basis is the open-source encryption library NaCl with 256-bit asymmetric keys.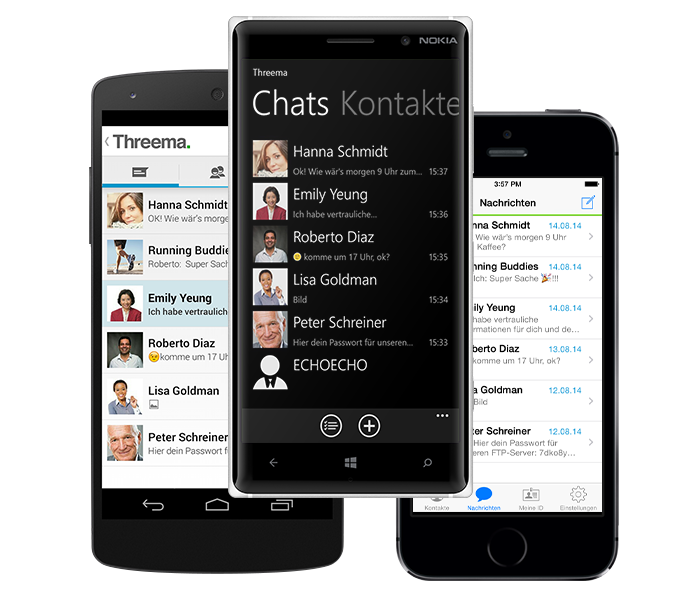 Threema offers like WhatsApp, the ability to synchronize the contact list of the phone contact to make it easier for other users. The program also supports a three-tier trust status for contacts. After the traffic light principle, it marks the unknown red, chat partners, present their e-mail address or telephone number, and yellow by scanning a personal QR code Confirmed contacts green.Verify your contacts' public keys by scanning a QR code from their mobile phone, all within the app, Network connection status at a glance: the color of the band below the navigation bar shows whether the app is currently connected to the server.
Stiftung Warentest Reviewed Threema to a rapid test to privacy in February of this year "critical" with. The end-to-end encryption, it makes the seller impossible to monitor the communication between users. Positive mentioned the tester also that your contacts are indeed saved, but only in pseudonymous form and with the explicit consent of the user. Even if the user reading out his address book does not agree that he could use the app. The only shortcoming made Stiftung Warentest from that Threema is not open source software. Consequently, it can only be ruled out and that the app does not transmit user data unencrypted.
Threema itself admits that his program "aimed at the best possible privacy" and designed to be, "that on the servers no data that could be abused." Individual and group chats would be decentralized and managed exclusively on the terminals, so that no data on contacts or networks of relationships incurred. Upon request, the Messenger can also use anonymous because no phone number or e-mail address must be specified.