In a robust environment, having a server backup software is extremely crucial. These days, backup to cloud is quite common, as you don't have to invest on physical drives and keep cost to a minimum. Then again, having a HDD clone is also useful if the data is very important.
EaseUS Todo Backup Server 8.9 is one of the best server backup software solutions for small and medium business where it costs less than 50% from other competitors. It also makes the life of an IT admin simpler as it supports a one click system backup to cloud to ensure crucial data is safe and ensuring business goes on as usual. It is also good to have it around so you can perform a HDD clone in a flash.
This server backup software now in its latest version 8.9, fully supports backup to cloud such as Google Drive, OneDrive and Dropbox. You will be amazed at how easy it is to carry out mundane tasks backup files/folders to the cloud, and how well it will serve your business needs.
In the event of data loss disasters, you can use this server backup software to quickly recover your server. It may be hit by a virus, sudden data loss, computer failure, or any other unexpected disaster that you might face; thus ensuring uptime of your business at its peak. No more unnecessary downtime caused by not having a backup or disk clone nearby to restore things back to where it was supposed to be.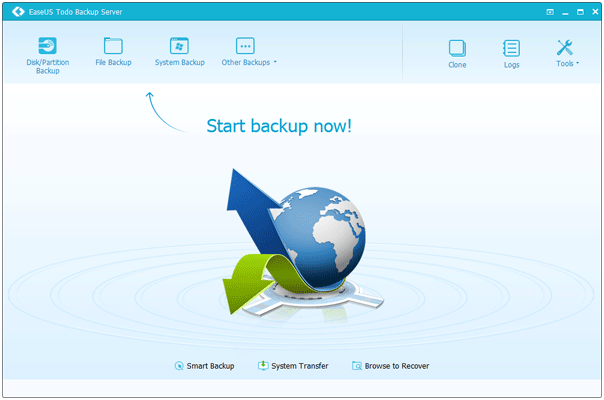 Even then, you can use bare-metal restore in order to recover an exact copy of your computer on a completely different (and new) hard drive, even if it was on a dissimilar hardware. Or you can proceed to restore dissimilar hardware with just a single click for initiating a fast hardware replacement or swap.
If you are looking to go on a smaller scale, you can do a granular file recovery to search and recover only individual files from your existing backup or images. This saves you a lot of time and resources, so you won't be troubled with bandwidth issues or anything similar. That's how good this server backup software is able to support you.
Not only that, EaseUS Todo Backup Server 8.9 is very user-friendly that almost anyone can manage it. Even if you are running a one-man show business, this server backup software ensures that you have the necessary capability to be able to run the show quite easily and efficiently. By making it easy to backup to cloud and clone hard drive, you don't have to worry about backup for your business any longer. Plus, you don't have to pay big bucks to get started.
Get more info for Windows 10 backup.