Lace, among all other fabrics present today is said to be the ultimate fabric of femininity. The great thing about it is that it adds a feminine aura to all kinds of dresses. You can look stylish and elegant, without looking cheesy.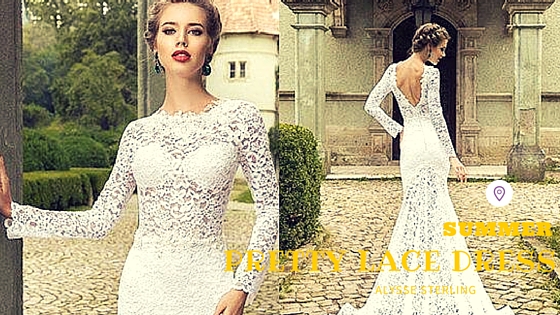 Lace dresses have always been in trend and with time it is only getting popular in the fashion industry. So, this summer whether you want to look ladylike, edgy, chic or a princess, we'll help you explore your inner femininity.
Lace Maxi Dress
When styled right, maxi dresses can turn into something so graceful and delicate, which looks stunning in summers, both day and night. Like, style a yellow feminine lace maxi dress with a cool sunglass, strappy leather sandal and a leather bag.
Peplum Lace Dress
This look is one of the biggest fashion trends this year. Try this look with a figure flattering peplum lace top and a solid color pencil skirt. Wear it with a statement making belt and heels to either office or a party.
Midi Dress
This can be one of the most troublesome lengths of all, but when worn right, it can look pretty flattering. To wear the perfect heel with it is the trick, higher the hem of the dress, lower the heel and vice versa.
Lace Skater Skirt
Wear a stripped crop top with this pleated and flared lace skater skirt. To complete the look, add a nice wide-brim hat with vintage brown leather shoes along with brown shoulder bag. Also, try this skirt with a pale wash denim jacket, a v-neck shirt or a floral top.
Vintage Lace Dresses
There is nothing more perfect than a beautiful black vintage dress with a lovely sheer lace overlay that covers it. Feel free to choose from austere whites to delicate pastels. The only thing one needs to remember is not to overdo the accessories, stay conservative and classic.
Lace Pencil Skirt
This is one of the those options with which you can experiment so much and yet never get bored. To keep it office friendly you can go for a structured navy blue non-see-through lace bottom with an ivory white top and nude pumps. To keep it casual, opt for dressy blouse, short sleeved turtleneck, floral print top, horizontal strips tee or a cool leather top.
Shift Lace Dress
It is their simplicity that gives them classy elegance. And, when lace is added to the simple shift dress, it turns into a a party or outing wear. Use the best evening clutch bag for the parties along with it.
Lace Top with Ripped Jeans
The lace top with ripped jeans is the ultimate classic look. We all love it, don't we? To make it even better, add a leather jacket to your look and pointed high heels or sneakers. Don't limit your choice to just a white lace top, give other colors a chance too.
Lace Top with Printed Bottoms
A lace top when worn with a printed short or a mini skirt can look effortless and yet stylish. You can also opt for the cute crop lace tops instead. This combination can be paired with your favorite wedges with the best beaded clutch purse for a cool summer look.
Bell Sleeve Lace Dress
The bell sleeve and lace trend goes hand in hand. But, to do that ditch the black and white colors, don't be afraid to try new ones to make it more chic and you'll love it.
So, let this summer the lace dresses take over!