Huawei is known for its quality products offered at cheaper prices. And here we are talking about a similar solution called Huawei Ascend Mate 7 launched in 2014. It is mid range phablet powered with octa-core Huawei chipset and comes in two version of 2GB and 3GB RAM.
Huawei has powered the Ascend mate with a full HD 6 inches display. However you can't expect the quality as display of Samsung smartphone or Sony smartphone. But it turned to be pretty nice. As discussed, it has used the octa-core chipset but the basic structure is similar to the production of system chipset of Qualcomm and other manufacturers, but Huawei has used its extensive experience in the field of network equipment, offering an updated cellular modem. Competitors now support a maximum, LTE Cat 4 speeds of up to 150 Mbit / s to download, but Ascend Mate 7 can work in networks Cat 6. They allow the smartphone to receive data at speeds up to 300 Mbit / s. But Cat 6 provides benefits not only for maximum speed, but also on the average throughput. This standard is based on the technology Carrier Aggregation, that is simultaneously smart phone can use multiple frequency bands and multiple cell towers. At the moment the network LTE Cat 6 is not common, but Ascend Mate 7 can use all LTE bands used in different countries.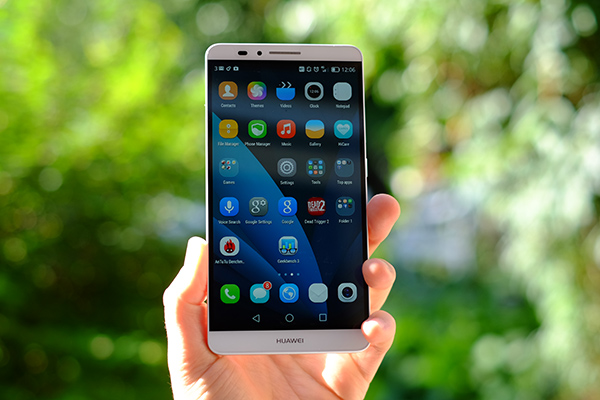 If you find yourself outside the coverage area of LTE, it is possible to take advantage of HSPA + speeds of up to 42 Mbit / s. During the tests there encountered not a single problems of voice or data transmission, LTE can be used even in difficult conditions of reception. The smartphone also suppresses ambient noise during a call. There are other options are like wireless, including standard Wi-Fi 802.11n dual range, Bluetooth 4.0 and NFC; wire interface Micro-USB 2.0.
At first glance, the there are no special features, except that under the camera installed fingerprint sensor. Most smartphones is missing, but the iPhone 5s, iPhone 6/6 Plus and Galaxy S5 smartphones carry such sensor and some other functions. At Ascend Mate 7 you can also unlock the smartphone handy not only by the code, but also fingerprint.
But, as with the flagship of Samsung, the sensor is capable of more. Personal data can be transferred to your smartphones' protected area to which access is possible only by fingerprint. So you can protect even individual application – without fingerprint they will not run. For ease of use sensor Ascend Mate 7 went to all competitors. There are few issues with the sensor of Mate 7, and it does not work as reliably and quickly.
You can see from these innovation that Huawei engineers are slowly moving towards a big brand and yes one day Huawei may shine as the topmost leader but the journey is not easy, in this year we would have many flagships like Galaxy Note 5, iPhone 6S and Xperia Z4, let's see if Huawei has something that can compete them.