Fotojet is one of the best free photo editor service providers and perfect tool for selfie lovers. Photo editing can be difficult to do in general, but many Photography experts can understand the value of shooting unprocessed raw files and then edit them with these kind of online tools. It has the Photoshop's versatility and image editing power. You will have a multi-step imaging processes in it. FotoJet also allows you to create custom cover photos for your social media channels. This offers three categories of services, basically you will learn what design is all about with those services. Here are some best photo editing options.
Collage Maker
Collage Maker is a  professional image cataloguing program. This service allows full-resolution image uploads, you can share photos via internet, it can import your images into your computer. This feature offers you  600+ stunning collage templates, birthday collages, anniversary collages, love collages etc.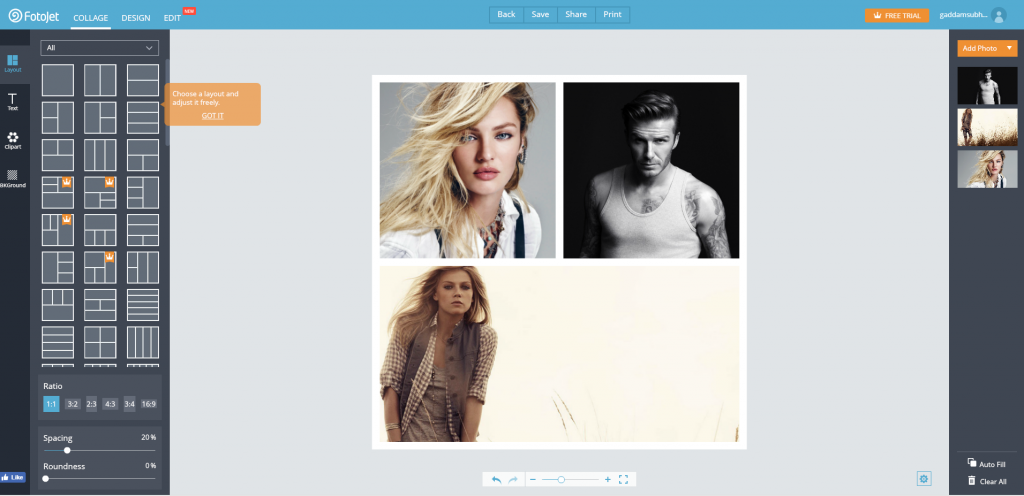 What does it do?
Collage Maker offers some options like Creative Collage, Photo Grid, Magazine Cover Maker, Free Photo Card Maker. It helps to  find a creative way to preserve and display your favorite photos and events. With FotoJet, with this option you will have a wonderful template, which is bound to give you lots of creative collage ideas. Add photos and customize your collage freely. Give you plenty of control over your colleagues. One of the best choice for you  to create photo collage online using pictures that are personal to you. You can choose Template from dozens of creative collage templates to start. In this you can create your own birthday cards, anniversary cards, wedding cards etc and write your own message. Choose themes like Photo Collage, Comic Collage, Classic Collage, Modern Collage, Photo Grid, Photo Montage Art Collage and then edit  with your choice and Save/Share.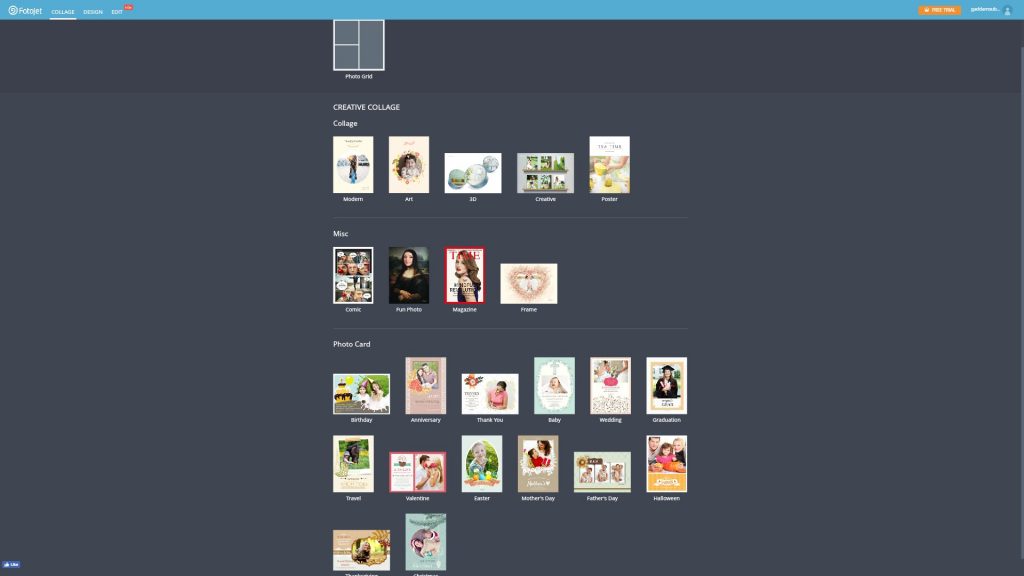 Graphic Designer
Graphic Design is an ideal job for someone who loves to draw. This is one of the best professional designer application, the best support for Photo design, advertise design, marketing design and so on. It can cover all your needs. One of the best practice  for those who have a creative mind.  On the whole you will learn what design is all about. The aim is to rival Photoshop's versatility and image editing power. It is a leading product for photo editing software.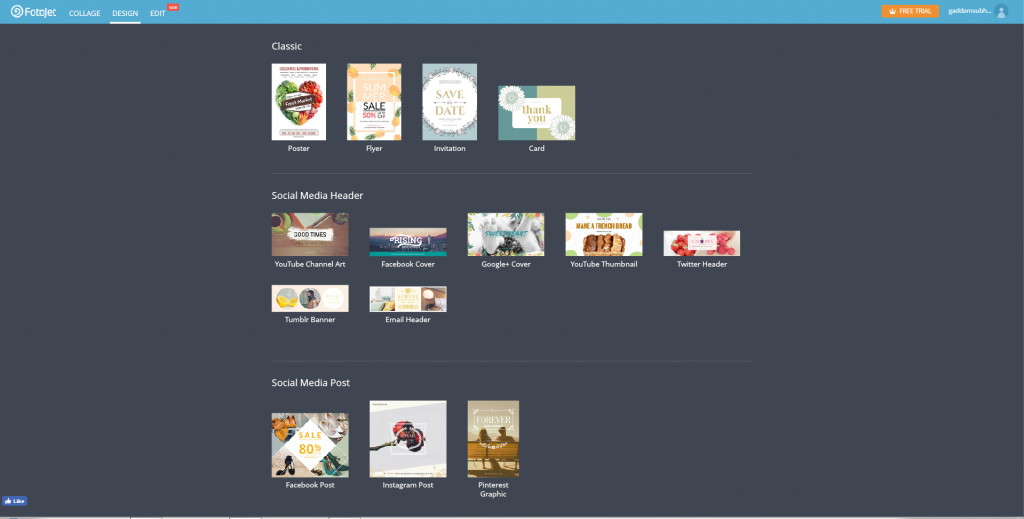 What does it do?
With the help of this tool that you can create graphic designs like a real designer with huge number of templates and customize your own designs by editing a template leaving you with a unique design feeling. This is one of the amateur' version of Photoshop, it covers Covering composition, balance, contrast and hierarchy.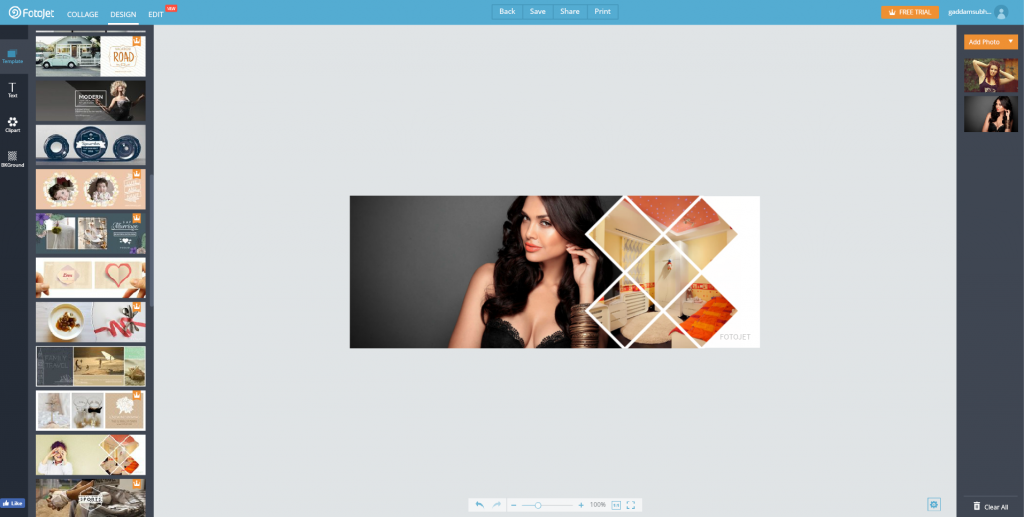 It offers Beautiful Graphic Design Templates like Facebook Cover, Email Header, Twitter header, Tumblr banner, Facebook Post, Instagram Post, Graphic Poster Design, YouTube Banner,  Google+ Cover, Invitation, Flyer, Card, YouTube thumbnail etc. This is compatible with different file types. JPEGs are an efficient way to save photos. It can handle BMP, GIF, PNG, TIFF and RAW file formats also.
Photo Editor
Photo Editor lets you to edit photos, it has the best editing options for your photo effects, text and clipart images, Downloadable photo editing tools have advanced, Free photo editor for you.  Resize and rotate, apply photo effects, add text and clipart image.
It offers some features like Resize Images, Crop Photos, Rotate & Flip, Photo Enhance, Radial & Tilt Shift, Vignette, Photo Filters and Effects, Add Text to Photos, Add Clipart to Photo.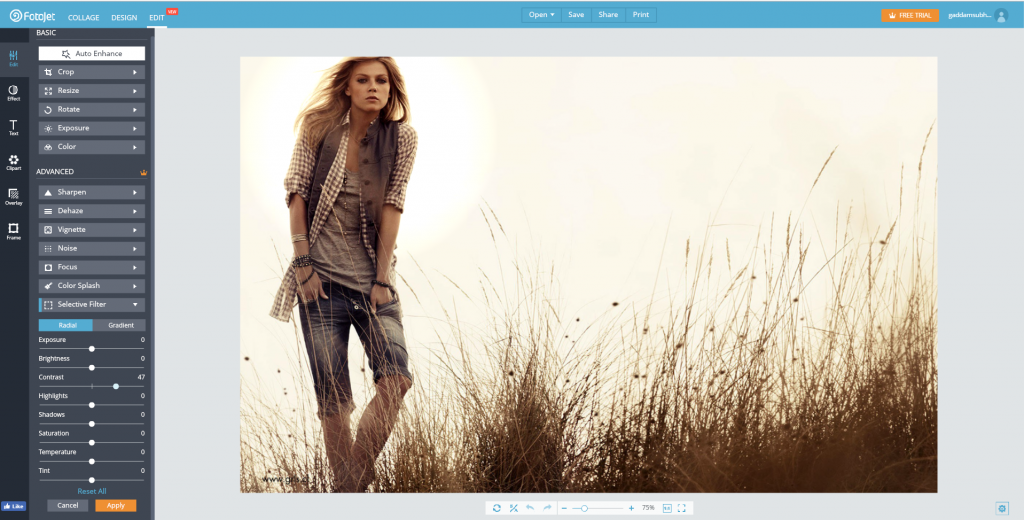 What does it do?
You can add effects to your photos, crop the images, do some color corrections, resize and rotate, apply photo effects and add text, you can change colors and lights by applying vintage effects, black and white effects and  sharpen the images.
So, if you are looking for some photo editing tools, we definitely recommend you to try this tool and enjoy some free features of Fotojet. You can also enjoy unlimited advanced features with the premium service,which includes 7+ advanced features, 600+ premium templates, 500+ premium resources, priority support service.