Of all the things to do in the Turks & Caicos Islands, there's really no disputing the fact that deep sea fishing charter trips are among the very best.  Regardless of your age, your interests or indeed whether you've ever laid your hands on a fishing rod in your life, it's the kind of once in a lifetime experience that has to be tried out to be fully understood. And when you're in a part of the world that's as beautiful as this, the kind of fishing you may think you know takes on an extraordinary new guise.
That being said however, if and when you have decided that a deep sea fishing trip is indeed the ideal day out for you and your group, it's important to bear a few things in mind before heading out. Not that the average deep sea fishing trip is nearly as dramatic as is often portrayed in the media, but in terms of getting the most out of your trip there are certain things to do and to most certainly not do before the big day arrives.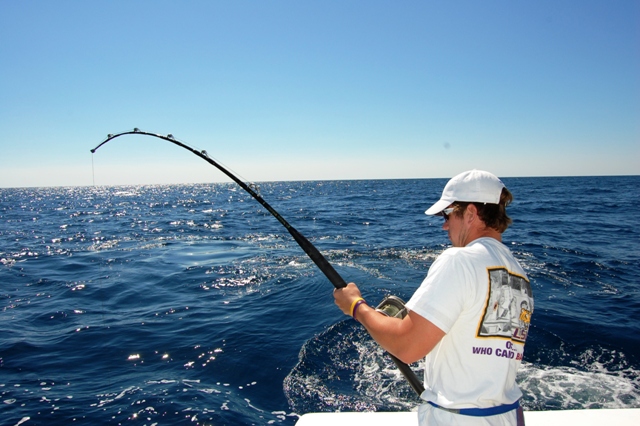 So in the interests of those looking to make their once in a lifetime experiences something to remember for all the right reasons, here's a quick look at five of the most commonly-made mistakes to avoid when arranging and heading out on a deep sea fishing trip:
1 – Not Vetting the Vendors
First and foremost, the fact that there are literally hundreds of charter companies of all shapes and sizes looking to hook you and your business should tell you one thing – standards vary, big time. The simple fact of the matter is that if you hand over a pittance to an unlicensed skipper with a dodgy boat and dated gear, you cannot expect to have the safe, enjoyable and rewarding trip you would have had if you'd booked with a leading service provider. Using the web, it's really not difficult to find out which charter services are genuine market leaders and which to avoid – choosing at random really isn't a wise idea.
2 – Not Checking the Weather
If you plan on heading out solo on a self-drive trip…which can be enormous fun…never under any circumstances even think about setting out before comprehensively checking and considering the weather. It's all well and good to take your chances when and where there's an experienced skipper at the helm of an extraordinarily expensive and sophisticated boat – it's something else entirely to try your luck against a storm with little experience and a very basic dinghy around you. Anywhere deep sea fishing charter trips are arranged you will easily be able to find out what the weather has in store on any given day of the year – check, check and check again.
3 – Not Taking Sea Sickness Meds Before Setting Off
In terms of sea sickness, quite simply the biggest mistake you can possibly make is to wait until you are overcome by feelings of nausea before resorting to your chosen medication. This is an absolutely spectacularly common mistake made by thousands of plucky newcomers every day – these kinds of meds are designed to prevent sea sickness in the first place, not to get rid of it when you find yourself revisited by your breakfast. Once things take a turn for the worst, you might find yourself fighting a losing battle and putting your whole day in jeopardy simply for not having taken them before you set off.
4 – Not Stretching and Preparing
There will of course be plenty of opportunities throughout the day for lounging around, laying in the sunshine and generally relaxing. But at the same time, actually reeling in the biggest fish you've ever laid eyes on and being on your feet for lengthy periods of time will put plenty of pressure on your joints, muscles and so on. More often than not, professional fishing charter services actively encourage their guests to undertake a good session of stretching, bending and basically preparing themselves for the day. You might laugh it off as unnecessary – chances are you won't be laughing when you come back with all manner of aches and pains!
5 – Not Checking Catch Policies
Last but not least, never fall into the trap of simply assuming that everything you catch will be yours to take back to your accommodation and whack on the BBQ for an evening feast. This is indeed the way things work with a lot of fishing charter providers, but there are also those with very strict rules when it comes to throwing back everything you catch.  As such, you might want to look into this ahead of time rather than ending up both disappointed and in something of a heated argument with the skipper for breaking the rules.