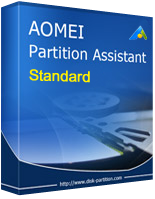 Disk partitions are necessary to organize your data into different drives. It also makes sense to keep the system drives different and run scheduled maintenance tasks on them so that the operating system gives you better computing experience. When we want to manage our PC partitions more comfortably, we always prefer a third-party tool that can do perfect job. Because the Windows built-in partition management tool may not be able to cut it, for instance, Windows disk management can't create new partition directly if there is no unallocated space, and you can't move partition. If you are windows user, AOMEI Partition Assistant can be one of your best choices.
Interface
There are many things you can do with the AOMEI Partition Assistant. A look at the interface image below will tell you what all options are available. You will find all of the necessary options on Aomei Partition Assistant dashboard. Its interface is quite simple, easy and user-friendly.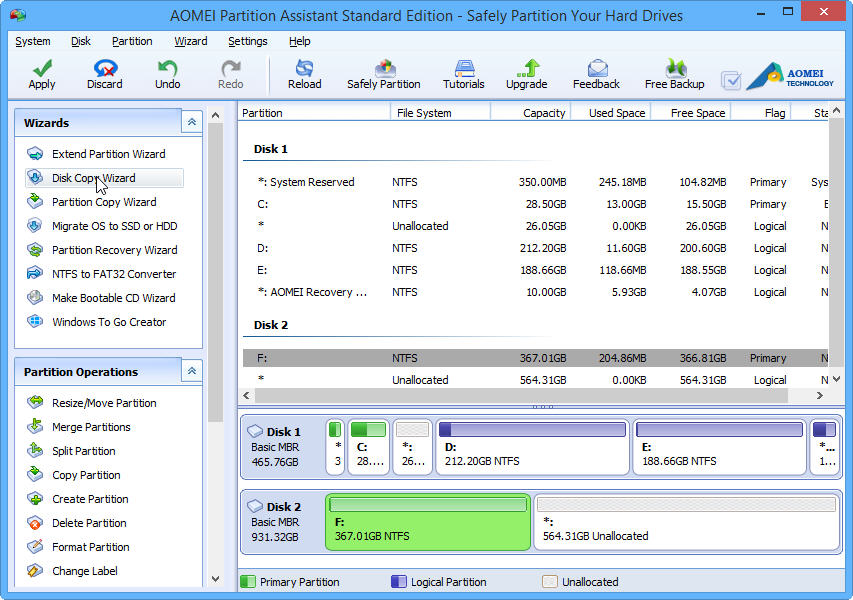 Main Features of AOMEI Partition Assistant
First of all it has all basic features that built-in disk manager already has that satisfy most average users need. You can easily create, move, split, format, merge, delete, resize, change letter of your partitions and many more. Extending the system partition is usually necessary for most PC user, but it is really a tough task. You may worry about possible data loss. With the help of the Partition Assistant Standard Edition, a few simple clicks can help you achieve this goal without rebooting. Besides, you can also resize the system drive during this process. It is fully compatible with Microsoft's latest and most recent windows versions. So you can simply resize Windows 10 partition and do any thing without any problem.
Besides above basic partition operations, AOMEI Partition Assistant provides other advanced functions: partition recovery, rebuild MBR, conversion between logical and primary partition, convert MBR to GPT and vice versa, migrate OS to SSD, make bootable CD, Windows to go creator and so on. With the release of AOMEI Partition Assistant 6.0, it enhanced many features, such as enhanced GPT to MBR disk conversion: support to convert a GPT disk that has more than 4 partitions to MBR disk. And fully clone system disk between MBR and GPT partition styles and ensure system is able to boot from destination disk
"Quick Partition" in AOMEI Partition Assistant is especially designed to quickly repartition a hard drive, which runs smoothly in PC, Server and Windows PE systems. It applies to partition a new hard drive or repartition a hard drive that contains partitions already. Users can specify each partition size, type, volume label, etc. With only a few easy operations, a hard drive will be partitioned and formatted quickly.
For those not familiar with Windows & computers in general, its clear wizards may be its most attractive feature. Even if you are inexperienced in handling disks or partitions operations, with its help, things become very easy. For example, "Extend Partition Wizard" enables you to increase partition size to completely solve low disk space problem. With "Make Bootable CD Wizard", you can create a bootable rescue disk based on Windows PE to boot your computer when the native system failed to boot, and then manage partitions or recover partitions in the Windows PE environment.
Last Words:
AOMEI Partition Assistant is great free partition software which can handle your disks and partitions very easily. It has a very clear interface, yet offers many powerful features. It allows you to extend partition (especially for system drive), manage disk space easily and safely. It is simple to use and protects the novice from making hasty mistakes. If you are feeling necessity for Windows disk and partition optimizing, it can be a good choice.