When you're considering enlisting the help of a professional nanny, it can be difficult weighing up the pro's and con's, especially if you have never used a professional nanny before. Many people have had experience of babysitters, who look after your child for an evening or short period of time. However, nanny's are completely different and are a much more permanent fixture, getting to know your children properly and becoming a professional part of the family. Handing over the care of your child is no small decision, so it makes sense this is something you should consider carefully before pursuing it. However, if you have been putting it off for a while, but know deep down could be the right choice for you, these 10 signs you need a nanny might ring true and encourage you to take that first step towards professional nanny care, for the good of the entire family: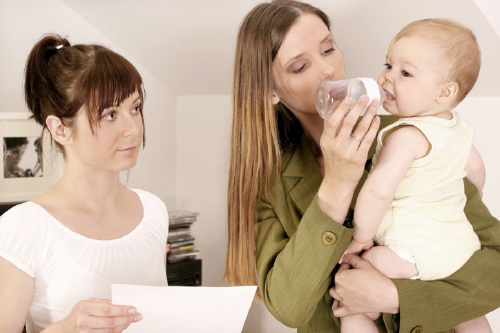 1. You Are Single And Working Outside Of The Home
Perhaps you are working outside of the home and having to pay ridiculous child daycare fees that seem to be making it pointless working at all. Depending on your income, the amount you pay could be less than the amount you would have to pay for a better standard of care from an in-home nanny. So it's certainly worth looking into. For a similar price, your children could have a more comfortable, personal level of care and you could have a much closer connection to the care they are having than you get at while they are at daycare.
2. You Are Single And Work From Home
If you are self-employed or setting up a business from home, one of the draws at the beginning was more than likely the fact you could also save on childcare and wouldn't have to miss out on looking after them because you could do that at home whilst setting up your business. This does work for some parents. However, it might be that a few months (or even days) in you have realised you simply cannot give the time or energy to the self employed work or at home business while your children need caring for constantly. A nanny from a top babysitting agency London could help you considerably. Perhaps they could care for the kids in the morning while you attend Skype meetings, or care for the kids in the home while you work in your at-home office. Let's face it, who couldn't do with an extra pair of hands with a kids and a new business to tend to.
3. You And Your Partner Are High-Flyers
If you and your partner both work outside the home in demanding jobs, it may be that daycare for your children works for the way you work. When you have a nanny, you are able to customise the childcare to meet your needs. Maybe you need them to do a few overnights a week, or perhaps you're both frequently working odd hours. Standard daycare cannot provide you with that kind of cover and care, but professional nannies can.
4. You Wants A Closer Connection To The Care Your Child Gets
It may be that you feel disconnected from the care your child or children get in a standard daycare setup. No matter how high the standards are, if you child is being cared for alongside lots of other children, the caregivers will not be able to provide them with an individual level of care. If you want your children to get to know a caregiver, to be given one to one, individual levels of care, second only to the care provided by you or close family members, this really is the next best thing.
5. You Want A Better Understanding Of Your Child's Development
When your child is at daycare, you can get a vague understanding of whether or not they were OK or if they had any problems. With a nanny, you can get a detailed log, regular phone calls and even webcam footage if you want it, so you can have a much more detailed understanding of your child's development.
6. You Want More Of A Say Over What Your Child Does When They Are Not Being Cared For By You
With daycare you can often ask for the child not to be part of certain activities like religious activities (or for them to complete certain religious activities). You can also usually ask they eat certain types of food. However, with a nanny, you can provide pre-prepared activities, meal plans, education and entertainment so you have a detailed say on exactly what your child learns, enjoys and consumes while you are away.
7. You Work Odd Hours Or Do Lots Of Overtime
Jobs that are unpredictable can clash with regular school hours and childcare.
8. Your Child Has Specific Individual Needs
If your child has special needs or individual needs, you may find a day centre struggles to cope with those needs adequately. Many nannies specialise in certain areas of childcare and would be able to provide your child with the special care he or she deserves.
9. Your Child Has Separation Anxiety
No matter what we do to encourage our children to be independent, some children struggle with being away from the familiar environment of the home or away from their parents. The familiarity of a nanny can be perfect for this problem and enable the child to feel comfortable at home with someone they can get to know. This also stops you having to go through the anguish of leaving them screaming and crying every morning.
Remember, only you know if it is the right time to hire a nanny. If you've been thinking about it for a while, find yourself struggling more and more with the childcare you currently have, it might be time to make the transition sooner rather than later. The right nanny can feel like a wonderful extension to your family, and a fantastic way to provide your child with individual private care.