We spend a lot of time, effort and money on our back gardens. We spend time relaxing in them and enjoying them, so it's important to get it right. However, most of us give our front yards much less attention. While you might not spend as much time using it, it's one of the first things both visitors and passers-by see when they approach your house. We all know first impressions are incredibly important, so here are six great ways to make sure your front yard is giving the right impression, and showing off your home as well as it can.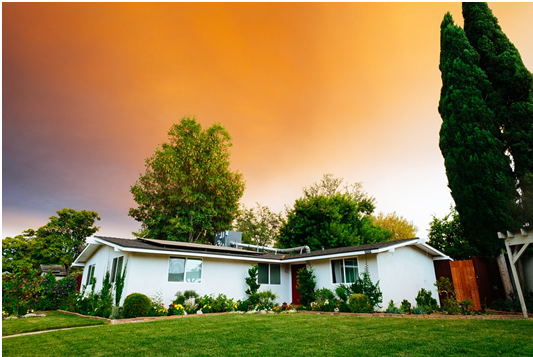 A Simple Lawn
A simple lawn, can be a great way of drawing attention to your home. Make sure you look after your lawn to keep it bright and healthy and show your house off in the best way. If you're worried about the maintenance involved, consider artificial grass, which always looks great.
Add a Path
If you have a lawn, but it's starting to look a little unkempt from being walked on when people head for your front door, add a pathway up the middle. There are a lot of options when it comes to paths; from a simple, slabbed pathway, to more decorative stepping stones, choose something that suits your tastes and your space.
Color
Flowers are a great way to add some color to any space. Bright colors can look particularly good in a front lawn, and be a great, refreshing way to welcome people to your home. Use flowers as a border to your lawn or around the path. If your space is smaller, utilize it by growing up your walls and fences, or adding hanging baskets and window boxes. Many people find looking after plants incredibly relaxing too.
Greenery
If flowers aren't your thing, greenery is another brilliant option. Trees, bushes and shrubs are also a great way of keeping your front yard more private. If you want to add some sparkle, consider some solar fairy lights.
Make it Social
Front yards aren't very often used to actually spend time in. But, why not? Having a table and some seating in your front yard, or even on your porch, can be a great way to make the most of your space. You could get to know your neighbors, chatting as they pass, or just sit watching the world go by with your partner.
Add Lighting
Solar lights are available in a huge range of different styles now. Adding lighting to your front yard can be practical, as well as stylish. If you have a large space, solar post lights, or mini posts lining your pathway might be a good idea. For a smaller area, you might want to consider more delicate options, such as fairy lights or lanterns.
If you don't have the time to devote to your front yard, there are many low maintenance landscape ideas, that could get your yard looking fantastic, and welcoming people into your home. Don't waste the space, use it!