Sales management is a really sweaty piece of work, but the proper sales management software can make it all a breeze contributing toward your sales soaring.
An intelligent sales management is a key to a competitive edge, customer loyalty and company's profitability. To achieve these business outcomes, sales teams should be armed with a powerful technology that will put an entire sales process on autopilot, thus leaving no space for human errors, downtimes, and lost opportunities. The sales management software is this very technology aimed at helping organizations improve sales performance and ensure a steady income growth.
The competencies of a right sales management system are next to endless: it can monitor and control all the accounts and transactions, track customer behavior in the social media, store and provide an access to the vital data, evaluate the reps' effectiveness, manage orders/invoices, capture, score and transition leads through the pipeline, and exercise lots of administrative functions. The carefully selected sales software drives numerous benefits, the main of which include:
Strategic account management
Leveraged analytics
Accurate forecasting
Effective inventory management
Accelerated deal closure
Manual task automation
Improved lead sources management
Better customer engagement
Reduced work-related stress and increased employee satisfaction
Though a professional sales management software is a great helper for all organizations regardless of their size and type of industry, selecting the best one is still a daunting challenge. Our list of the most advanced tools will aid you in making the right choice.
Bpm'online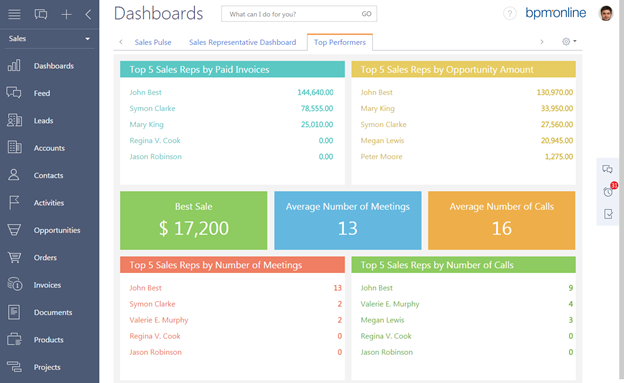 Being an all-time top-notcher amongst online sales software solutions, bpm'online delivers complete sales force automation through ready-to-go reference processes to manage every stage of a sales cycle – from lead acquisition to repeat sales. Bpm'online is the first platform that has incorporated processes for sales, marketing and customer service into one multifunctional bundle in order to take control over a whole customer journey and provide an excellent buying experience.
The sales product is available in three different editions (team, e-commerce, enterprise) to fit a business model of any company. The outstanding feature of this cutting-edge sales software is that it provides an ability to define a strategy for each deal, monitor competitors, prospects and customers on the website and social networks, develop personalized marketing campaigns and manage orders, invoices and payments in one place! A set of sophisticated tools complement the bpm'online's value:
Business process engine
Comprehensive customer view
Content and document management
Contract management
Field sales management
Forecasting and analytics
Inventory management
Knowledge database
Lead lifecycle management
Mobile app
Opportunity management
Payments processing
Product/service portfolio
Project and task management
Seamless synchronization and data migration
System customization
Team collaboration panel
Toast CRM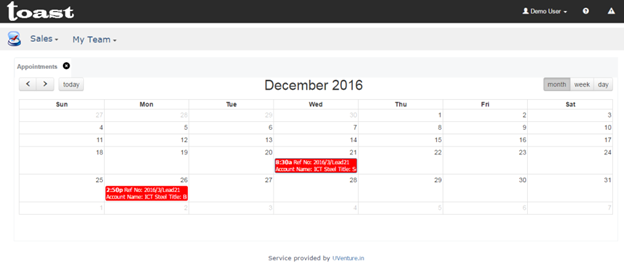 A decent sales productivity platform for small to medium restaurants, Toast CRM can coordinate the front office personnel, manage orders and inventory, automatically collect customer data from different channels and segment client profiles according to specific parameters, track prospects, streamline the document flow and generate insightful reports on business and members efficiency. Such a smart SaaS software for sales management can be very beneficial when it comes to developing loyalty programs and target marketing campaigns. To help cafes boost customer satisfaction, Toast CRM comes with:
Customer data management
Order management
Lead generation and scoring
Sales tracking
Opportunity management
Pipeline reporting
Cratio CRM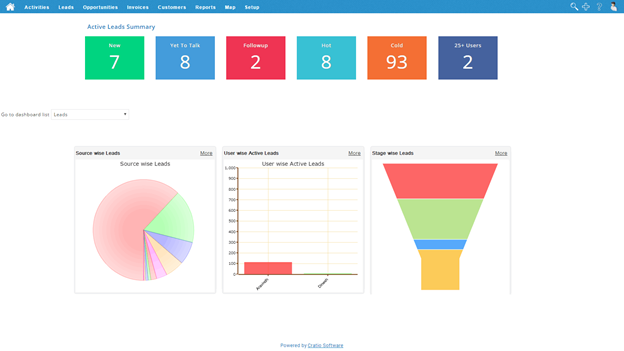 Fully-loaded Cratio CRM is considered one of the best software for sales management for growing companies looking to organize promotional activities, capture leads from various sources, process customer inquiries, delegate tasks to the responsible users and ensure consistent team collaboration. Cratio can become a real business hub as it can orchestrate marketing, sales and payments initiatives. The key features of this funnel management product include:
Lead management system
Sales activities management
Prospects, customers, and pipeline reporting
Customer communications
Quotation
Task planner
Customization, integration, mobile access
Opportunity management
Base CRM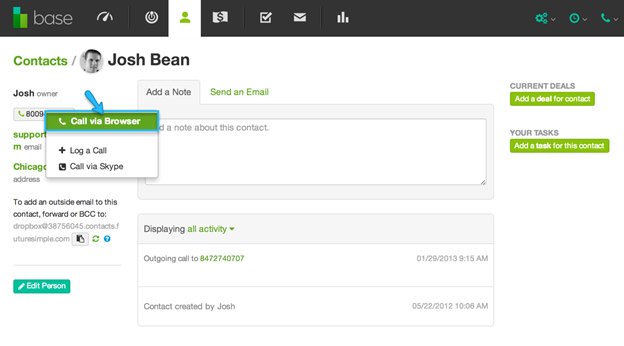 Being highly competitive with the best sales management software machines, Base CRM is meant to accelerate everyday processes, support a pipeline visibility and build strong relationships with customers. The product features automatic scoring rules to let salespeople focus on the most profitable leads and deals. Solid CRM capabilities provide a holistic view of each contact in a database while powerful filters allow for sorting customers into specific audiences. Real-time insights and dashboards show the revenue drivers and allow to see how employees are succeeding in achieving corporate goals. Other benefits of this sales management tool are:
Pipeline and opportunity management
Activity management
Territory and quota management
Contact and account management
CRM functionality
Price list and order management
Email marketing
Lead capturing, qualification, nurturing
Reporting and forecasting
InTouch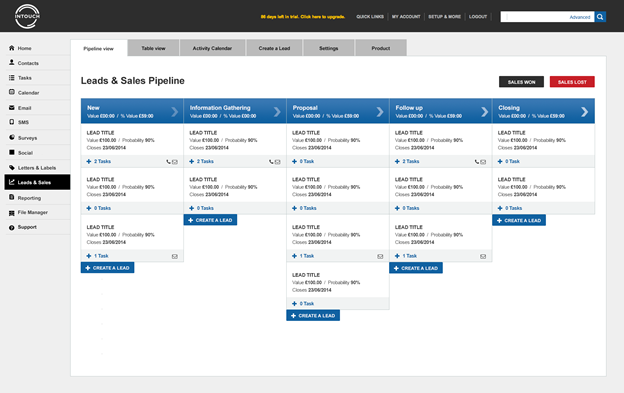 Suitable for both sales and marketing automation, InTouch is meant for small companies and start-ups with tight budgets and big ambitions to grow further. This sales software provides a standard yet essential framework to manage contacts, marketing activities, leads and customer interactions in one place. Besides this, such a solution can automate regular tasks to help staff work smarter with fewer efforts. The highlights of this application are:
Contact database maintenance and auto-enrichment
Email marketing
Automated campaigns
Sales pipeline
Survey tools
Calendar and tasks
Social media management
Third-party integration
Tailor-made reporting