The popularity of pins and ribbons can be measured from the fact that they can be seen everywhere these days. The practice to use them is not that old, it started in 1980s and in just this short period of time, lapel pins have gained very much popularity. Many organizations are utilizing them for their different purposes and causes. An organization or a company can have lapel pins designed according to their logo or color of the ribbon that supports the cause. By utilizing this method, you can delicately promote your brand. And, the cause will also be served.
Lapel Pin Causes
There are many causes to which support can be expressed by lapel pins or ribbons. Some of the most common causes and the type of ribbons used are defined below.
Pink Ribbon: Support for Breast Cancer Survivors and Breast Cancer Research.
Green Ribbon: It is used to generate support for organ and tissue donation.
Yellow Ribbon: Used to support US POW/MIAs and troops.
Orange Ribbon: It is used in America and represents support for fight against hunger.
Navy Ribbon: Support for fight against child abuse.
Purple Ribbon: Represents support for fight against domestic violence.
White Ribbon: Support for peace.
Black Ribbon: Used in support for mourning and supports POW/MIAs.
Jigsaw Puzzle Ribbon: Support for families living with autism and its research.
Red Ribbon: Red ribbon is used towards the support for patients of HIV/AIDS and its research. It is also used in support for heart diseases awareness and support.
Lapel pins fulfil one other purpose when they are in the form of lapel flags and that is patriotism. Lapel flags demonstrates patriotism as well as support for the troops. Also flags of different countries can be used as lapel flags to celebrate their national holidays.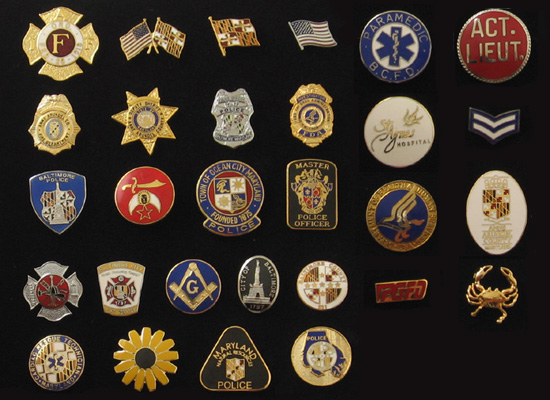 Benefits of Using Lapel Pins
Lapel pins are the best way to demonstrate the support of your company to a cause. These pins work as a good reminder for participants to take away from a fund-raising or charity program.
Type of Custom Lapel Pins
The maximum number of pins commonly found are made up of epola resin and metal. For those who do not know about epola, it is a resin-based material that is heated at a very high temperature to get a hard, bright and enamel-like finish. This material is available in many colors.
Another procedure used to make these pins is the classic cloisonné. In this method, lapel pins are hand-filledand then polished by hand. After that, they are fired in a kiln. There is another variety of pins which is called laser-screened pins. In these type of pins, the requirement is laser-printed and further covered by a protective epoxy coating. The metals that are commonly used for flags and ribbon pins are bronze, copper, nickel, gold and silver.
Where to Buy Lapel Pins?
These pins are available in a wide variety from a number of vendors and can be bought both online and offline. If you want to buy them online, many sellers will offer you "design-your-service", where all the choices will be yours like ribbon or flag, color(s) and size. The pricing of these pins depends upon the quantity, metal, process used, and the color(s). Most online companies process the order within 24 hours. To find more about Lapel Pins, Click here