Uniquely designed drop ceilings can be an excellent addition to your home décor. You can design elegant home interiors with the help of different types of drop ceilings. They are commonly referred to as suspended or secondary ceiling because they use the main ceiling for the support. They kind of hang under the main ceiling and offer you with an excellent opportunity to incorporate mesmerizing designs into your home interior.
Decorative ceilings are a perfect gift of modern architecture. You can make them even more stylish, beautiful and noticeable by adding stained glass, lights, and dry walls to the ceiling and room.
Why Use Drop Ceilings:
As mentioned above, drop ceilings add some real drama and life to your room. Besides, you can also use them to conceal many different things such as electrical wiring, piping, and other imperfections. These things are part of every room ceiling, but you don't want them to be visible. You can install drop ceilings in any room of your house be it is a basement, living room, bedroom, TV lounge or even kitchen.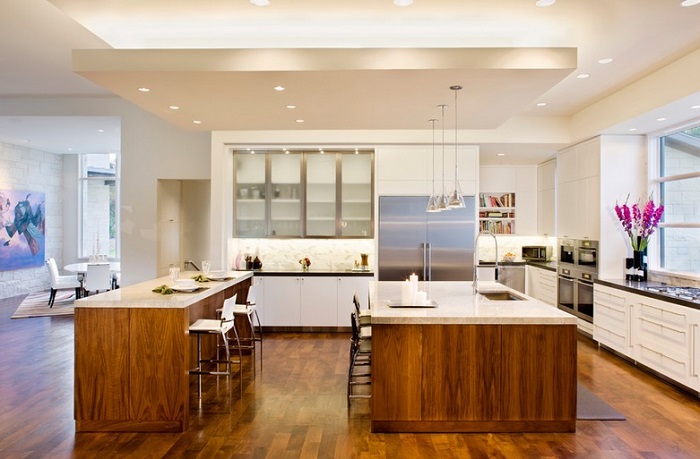 by LaRue Architects
There are many design ideas you can experiment with the drop ceilings. Following lines explain some of those.
Drywall Ceilings:
Drywall ceilings are the most basic form of room ceilings. You can easily add them to your room as a drop down ceiling. To make the arrangement even more charismatic, consider a wall with stretched artistic design. Illuminating the wall with different kinds of light fixtures will further enhance the visual appeal of your home.
Similarly, you can also add geometric designs and patterns to drywall ceilings. You can also hang chandeliers or add LED lights, especially in the rooms with the high ceiling. Also, consider adding a decorative patch to minimize the distance between two ceilings. As a matter of fact, you can use specific drywall ceiling designs and ideas for specific rooms such as a living room, dining room or basement. This will give your rooms a unique and distant look, further enhancing the beauty of your home.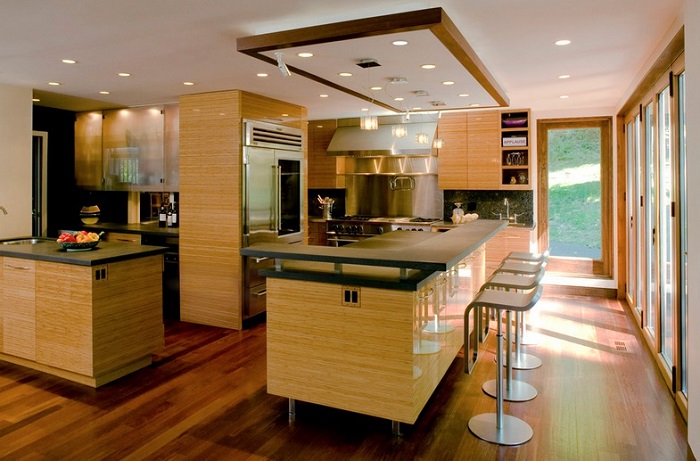 by Fivecat Studio Architecture
Wooden Ceilings:
Wooden ceilings have become similar to luxury and grace and drop down wooden ceilings are no exception. They do not only make your home more comfortable but impart a fresh, natural look to your interiors as well. You can choose anything from wood tiles, cubes, grills, and planks, etc. to adorn your drop down ceiling. For instance, you can create splendidly beautiful coffer ceilings using wood tiles. Carving designs and patterns in the wood will make the ceiling a real treat for the eyes.
You can use linear wooden planks and grills on the main ceiling as well. The ceiling will become more attractive if you hang different types of light fixtures from it. It is also pertinent to note that wooden ceilings are very affordable. The cost typically depends upon your requirements and types of material you use.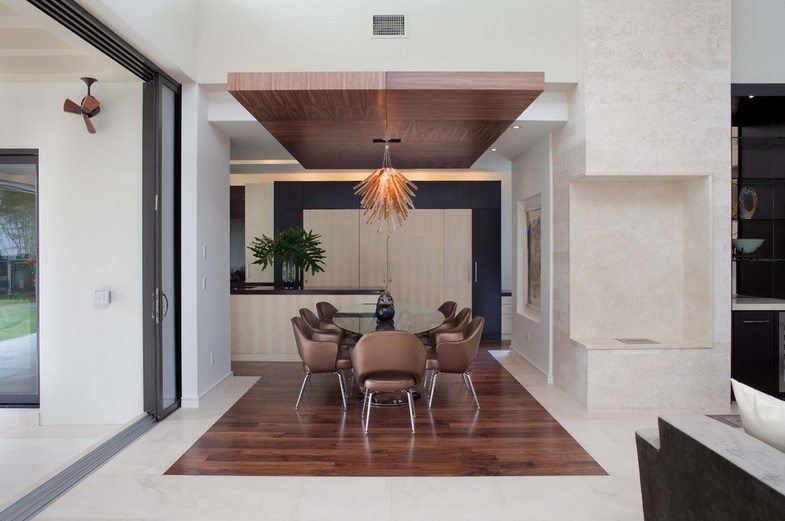 by Astro Design Centre
Tiled Ceilings:
Tiled drop down ceilings are high in demand because of their unique charm and the persona they can add to any room. In fact, you can use different types of tiles to build secondary or drop down ceilings. Similarly, incorporating different tile designs into a single ceiling is another excellent idea to revamp the room ambiance totally. Tiles will neatly conceal any blemish on your ceiling, also making your room sensationally stunning.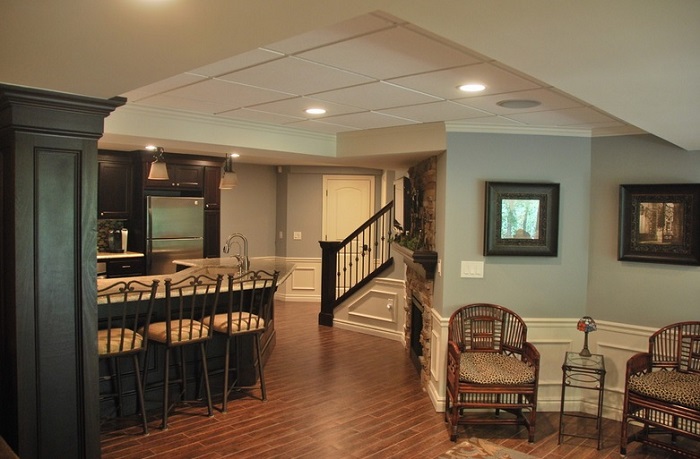 by Camber Construction
Another excellent method to create a sumptuous interior is to use glass or mirror tiles on the ceiling. They make your room look modernistic, stylish, perfectly elegant, also adding a touch of class. In addition to glass tiles, you can choose from ceramic, stained glass, drywall and wooden tiles to get the design you dream of for your room ceiling.
You can get any design and look using drop ceilings. You can paint them in any color you want and still the result will be a strikingly beautiful room. Most importantly, you can use them in any home or building as they fully complement all the building types and designs.