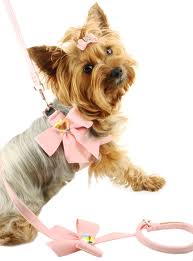 Every pet owner wants the best and cutest look for their Fido's. They turn to fun and fancy collar as these accessories can emulate dog's personality as well as status. If you want to custom make your own dog collar and leash to give your pet that adorable appearance, but hate dressing your pet up, then making your own dog collars and leashes can be the perfect way to give you pooch that perfect but not prissy. You can simply style a collar and leash to match every outfit up to and including your own.
Get ready for spring by adding some flowers to your dog's collar. You can add some fake followers from your local craft store so that you can make a seasonal decoration that you can wear or take off your dog's collar whenever the character suits you
1. Trim the collar. You have to fold over the materials for your collar and sew them together, first one side and then the other. Use a zig zag stitch to hold things firmly and prevent fraying. If you are using leather, you can use thick waxed thread and do the same thing with a needle and thread
2. Attach the fastener. Fold over your material and thread it though the female end of the plastic clip. You have to sew the loop together so that the clip is held at one end of the collar.
3. Fold over your material and thread it through both the key ring and the male end of the plastic clip and sew them together. You should use the same type of tight, small loop of fabric that you used on the female end. This will be the collar. Based on your pet's neck size, allow about ½ inch clearance on all sides. If you have more, then fold the collar and stitch it to take it in.
4. You have to make the handle for the leash. On the end of your rope that you will hold on to, take the plastic joiner, make the loop in the rope that is comfortable for your hand, insert the end into the joiner, and seal it down. Most will have either a lever that uses pressure in place, or a sticky strip that will hold the ends together permanently.
5. Then, tie the other end to a carabineer. The carabineer's spring hinged door will allow you to easily clip the leash onto the key ring so that you can now take your pet for a walk. You can now use your personalize made leash to stroll your pet with its first cute and fancy made collar.
FunnyFur.com is a dog boutique offering small dog clothes and dog collar charms for pet parents who truly want high style for their fur baby. Our luxury pet boutique products will make your fur baby the envy of the canine fashion world. FunnyFur is by far the top dog accessories site today.