Today, website creation and maintenance is as easy as running a Facebook account thanks to drag-and-drop website builders that require no prior webmastering experience at all. With their help you can design and publish a professional-looking, custom website in one sitting – they put YOU in the driver's seat. But are these platforms suitable for creating responsive websites? Luckily, they are :).
#1 MotoCMS
MotoCMS website builder was among the first to introduce an inbuilt Mobile Editor. This tool automatically generates a mobile-friendly version of your website without affecting the standard, desktop look. The default mobile view is 100% customizable: you can rearrange, hide and edit literally any object in the design.
Brief MotoCMS facts:
MotoCMS develops unique HTML and Flash templates which are almost ready websites – they already contain an inbuilt admin panel and a set of ready-to-use widgets. Therefore, users can start customizing these templates immediately after uploading them to the server. MotoCMS customers are free to use any web hosting company, as opposed to many other site builders which work exclusively on their own servers.
Cost:
You can try out MotoCMS free of charge – they offer a 30-day trial allowing you to avail the benefits of the system at their finest. Just pick a template and enter your email address. If you like the platform, purchase the current template or select another theme from their rich template gallery. You'll have to pay once for the template ($139). In the future, there will be no monthly bills except for your web hosting.
#2 Webydo
Webydo is a professional web design suite for creating beautiful websites without code. It guarantees that your website will look and perform impeccably across different devices and browsers thanks to its impressive Mobile View editor that allows users to fine tune their mobile-ready websites in What-You-See-Is-What-You-Get mode.
Specifically, users can add mobile-specific features (Email, Click-to-Call, Online Scheduling etc.), select a layout, rearrange categories in the menu and so on.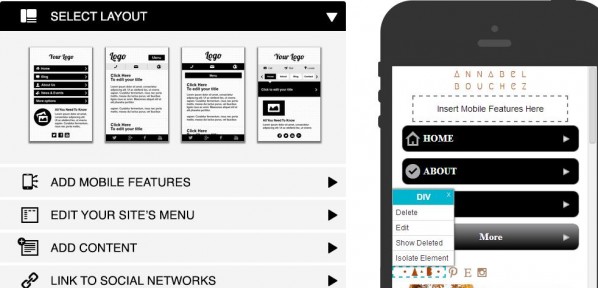 Brief Webydo Facts:
Webydo has an advanced Design Management System built in the tradition of Adobe InDesign or Photoshop: there are many advanced tools and effects allowing designers to draw complex objects directly in the Webydo's DMS. With Webydo there's no need to purchase expensive software to design your website – everything can be done within your account, via the browser.
In addition to the unusual DMS, Webydo offers excellent project management solutions: 'share your design', 'build your brand', 'bill your client' etc.
Cost:
There's a free plan allowing you to create a basic website with up to 5 pages (on Webydo's subdomain). To be able to publish your site using a custom domain you have to upgrade your plan. There are 5 paid options: One Site ($9/mo), PRO ($17/mo), Team ($35/mo) and Agency ($85/mo).
Online website builders' intuitive interfaces make creating responsive sites a breeze. All you need is a browser, Internet connection and some inspiration! Is your site powered by a website builder? If yes, please share your site building experience in comments :).
Malcolm Thomas is a professional blogger who runs http://mmthomasblog.com/, a website dedicated to online website builders, wed design and everything in between.