No less than 30 individuals were killed in a spate of bombings in the Iraqi capital of Baghdad and northern city of Kirkuk on Saturday in clear retribution assaults for a savage ambush led on a Sunni Muslim mosque in Diyala region.
In Kirkuk, 19 individuals were left dead and 112 injured after three bombs blasted in a stuffed business region, as per police and witnesses.
There was "a blast between the autos, and afterward we began completing the dead bodies from that point while individuals were blazing inside the shops and autos," On anonymous witness told the Associated Press at the scene.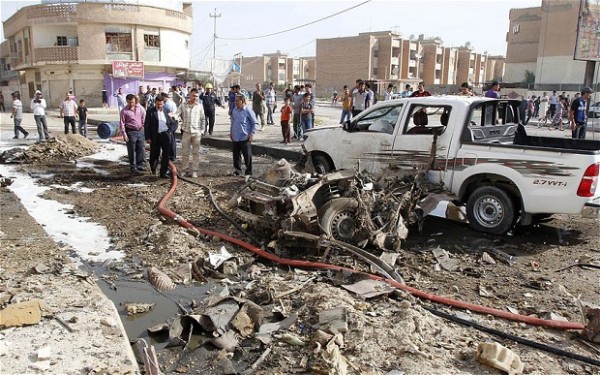 Prior in Baghdad, 11 were slaughtered and 24 injured after a suicide aerial attacker smashed an auto stuffed with explosives into a knowledge central station, as per police and witnesses. Six regular citizens and five security officers were among those executed in the early evening assault in Karrada area.
The episodes came the day following a lethal strike led on a Sunni Muslim mosque in Diyala area, in which 64 individuals were killed after a suicide assault plane and shooters stormed the expanding on Friday.
There are clashing records of the mosque assault from both Sunni legislators, who claim Iranian-prepared Shiite militiamen directed the assault, and nearby security authorities, who accuse extremists from the Islamic State.
The Iraqi military has been attempting to recapture control of unlimited swaths of area in the nation's north and west, which has been overwhelmed by the Islamic State and Sunni activist partners lately. In June, the Islamic State took control of Iraq's second biggest city of Mosul and pronounced a borderless caliphate straddling Iraq and Syria.
The heightening emergency has incited the first round of airstrikes from US drives in the not so distant future since American troops were hauled out of the nation in 2011. The strikes have thusly evoked response acts from the aggressors, including the abhorrent decapitating of American writer James Foley this week.
Taking after Friday's mosque assault, two powerful Sunni parliamentarians, Deputy Prime Minister Saleh Mutlaq and Parliament Speaker Salim al-Jibouri, withdrew from converses with structure another government, pending the finish of an examination concerning the episode.
The pioneer of a major Shiite volunteer army bunch in Iraq denied any inclusion in the assault on Saturday.
"What happened yesterday is a wrongdoing that we can't deliberately ignore to," Qais al-Khazali of the Asaib Ahl al-Haq civilian army told the Associated Press. "It is something we don't acknowledge and we completely denounce."
In a question and answer session on Saturday, Al-Jabouri did not allude to who executed the mosque assault, rather decrying both the Islamic State and Shi'ite volunteer armies.
"We won't permit them to endeavor aggravated security in the nation to undermine the political procedure. We accept the political procedure ought to proceed onward," he said of the aggressors, as indicated by Reuters.
Saturday's suicide bombings have ended up being the most recent impediment for Iraq's recently chosen Prime Minister Haider al-Abadi as he endeavors to structure a force imparting government to mitigate partisan strains that have arrived at a breaking point, and fight the up and coming risk of the Islamic State revolt.
The UN has denounced the assaults, communicating concerns the demonstrations and any countering would harm the delicate political process in Iraq, while the European Union has urged Iraqi pioneers to unite in their stand against the "appalling wrongdoing."