Price, flexibility, waterproof, technology and quality are some of the factors many camera shoppers consider when buying. Many of the cameras have been digitalized to latest technologies, but there is a simple aspect of them. This is, being waterproof, many professional photographers love taking outdoor activities to take hilarious pictures. Sometimes they are limited by showers and are scared of losing their camera when they get into contact with water. While most of the cameras might die when in contact with water, there are exceptional pieces that can survive that. They give the photographer a chance to take an adventure and even images in underwater, underground and make traveling fun. Some of such High-Quality Waterproof Cameras in the market are reviewed below.
Olympus Tough TG-680
This is a tough camera as its name and one of the best in the market; its shockproof, waterproof, has a GPs and excellent Wi-Fi connectivity. By tilting its lens one can take the most amazing selfie. Its lens screen can be zoomed to 5x times, and its performance is ultra. It also comes with a tripod socket, and it is 15meters distance as the waterproof length. Tough as it is it presents itself as the most fantastic waterproof camera in the market.
Panasonic LumixFT5
At only $215 in Amazon, Panasonic LumixFT5 proof itself to be one of the top notch cameras. Its optical lens ability to zoom is 4.6X, and the waterproof distance is 13meters. The camera is a portable one and comes with attractive color and unique because of its built-in GPS.
Nikon 1 AW 1
Attractive qualities in the Nikon 1 AW 1 include the fact that it is shock proof by 3meters and waterproof by 15meters. Many identify it as the best camera in the market all over the world. Also, the camera's speed of captions is very high, and its lens is interchangeable. For excursions in ski areas, this is the right piece of its freezeproof property.
Olympus Tough TG-850
Available in a variety of colors, the Olympus camera is exceptional with its waterproof qualities and its tilting camera lenses. The camera screen is 3inches, and it is the most preferred for family holidays, underwater adventures and group selfies.
Canon PowershotD30
The Canon PowershotD30 is certainly an exclusive one considering the 25-meter distance waterproof. It is unique in color and costs roughly $179. The camera is one of the toughest in terms of waterproof qualities, in addition to being digital, it is also shockproof. Its price is also average considering quality that comes with owning one.
Fuji Film Fine Pix XP80
The camera is both digital and hilarious; its lens zooming ability is 5X. Also, it is 50ft waterproof and 5.8ft shock proof. It is not prone to freezing and has been built against attracting dust particles. A Wi-Fi that is inbuilt comes as an added advantage to owning this camera and its high ability to read quality videos. By owning it, one certainly gets the value of their money and adventurous experiences.
360fly
Perfect for aerospace captions, the 360degrees ability of 360fly is unique in comparison to others. It can take quality images at any angle or direction. Also, it is waterproof and dustproof. IP67 is its protections rating; once videos have been recorded the camera has an ability to scale them to quality images to a scale of 16:9.
Ricoh WG-5
The Ricoh lens is protected by being rounded up with micro LEDs. It comes with attractive colors and is 14meters waterproof. Its ability to adapt to shock when fallen is 2.2m. The camera has been made with an inbuilt GPS, and its screen is quality in that it displays time. At an affordable price, one gets a chance to wonder into underwater and caves and gets the most amazing shots.
Nikon Coolpix AW 130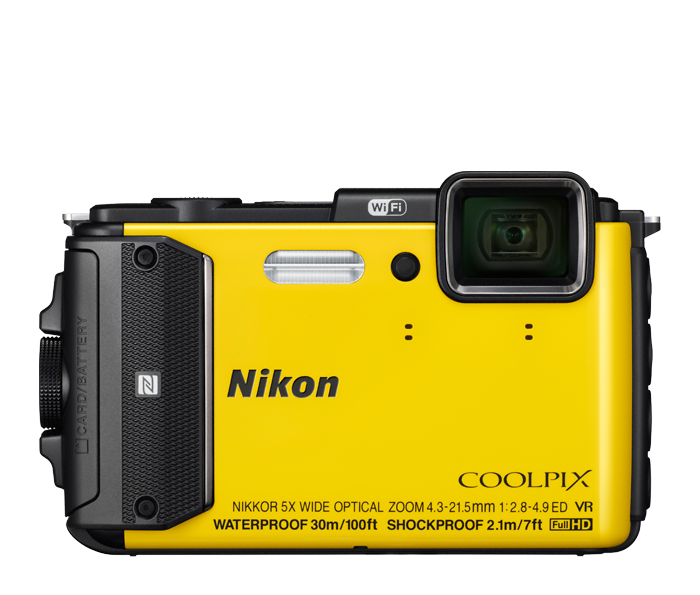 Nikon Coolpix world map is inbuilt; it is digitalized to Wi-Fi connectivity and NFC. It is waterproof by a distance of 30meters, and its lenses can be zoomed to 5X. It also comes with a variety of colors that also vary in pricing. Owning one is an assurance of total exuberance.
As much as the cost of the cameras may vary what makes them the best is their waterproof ability. It comes as an assurance that they will never die on you when doing expenditures around the world.