Buying and building a new home is a huge decision. There are many aspects to consider and it is important to take the time to weigh them all and think them through before settling on a home. It can be difficult to separate our needs from our wants, but it's necessary.
For example, if you're in your mid-forties and later, and have parents who are still living, it might be wise to think about how your parents are aging and if at any time one or both of them would need to live with you.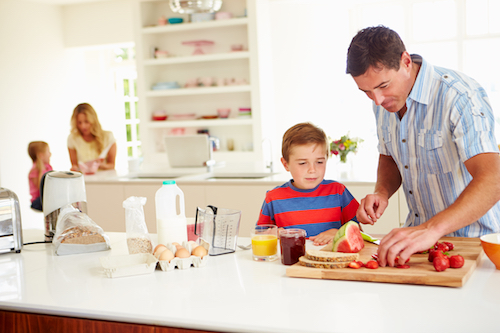 If that's the case, then perhaps a one-level bungalow type of house is a good option. Few to no stairs is often needed in these situations. In-law suites are available in some models, or perhaps the builder can oblige such a request.
Have young kids who will eventually need their own space and need schools and daycares in the area? Or a newer couple who might want kids down the road? Then you need to consider how many rooms you will benefit from in the future and what services are available in the area so you don't have to move after a few years to another home that will better accommodate a growing family. Lot choices will also greatly impact whether kids are in your life now or will be one day.
Having these conversations and thoughts ahead of time can save some frustration down the road, especially if you fall in love with the home you choose and only realize too late that it only works for the present, but not necessarily future needs.
Below are some things to consider when choosing a floor plan. Apart from the bigger life issues to think about when choosing a floor plan, you also need to take into account your daily routines.
With all that in mind, here are some things to focus on when choosing the right floor plan for you and your future self.
Open Concept, Yes or No?
Entertaining: Yes
This is a biggie. Open concept floor plans are still a top pick for most new home buyers and help with the resale of a home. Open concept is an ideal choice if you love to host large get-togethers with friends and family and enjoy entertaining. Nobody likes being stuck in the kitchen, cut off from guests for long periods of time, so an open concept allows you to be in two places at once and actually host your guests.
Parenting Ease: Yes
For parents with young children, an open concept will also help you keep an eye on them while your making dinner, for example. If you prefer having the kids do their homework near you so you can make sure the work is getting done, but are constantly asking them to move when it's time to set the table, add an area near the kitchen that includes bar stool seating so the kids can use it during the week. It can also later double as a place for friends to hang out over a drink during your next dinner party.
Multigenerational Living: Maybe Not
If your living arrangement includes more than just your immediate family, and in-laws are part of the picture, then an open concept might not offer the privacy you need.
If you value a quiet home then an open concept floor plan might not be the best option for you either. Instead, a compromise might be adding a quiet room where you can escape write, read, or just escape to solitude.
A more compartmentalized floor plan offers a quieter environment overall. In this case, a formal living room adjacent to the front door might be best as opposed to a wide foyer with an open living/dining arrangement.
Organized Chaos Living: No
Another consideration is how neat and tidy you and your family are. If you tend to be on the organized chaos side, then perhaps a more closed layout would fit best for your daily life. It won't visually look so disorderly in separate, blocked off rooms as opposed to an open concept where most rooms flow into the other and the eye will take in the mess from one corner to the other.
Personal Routine
What does your life look like on a daily basis now and what do you desire moving forward? These are important questions to answer before deciding on a floor plan.
New build homes have many layouts and floor plans that fit what most buyers are looking for when building a new home. Building a new home should be fun and an enjoyable experience, so really think about your needs, wants, and the vision of how it all comes together. If you see yourself having coffee in the morning on your master bedroom deck, then write that down and see what floor plan accommodates this vision.
If you like to wake up with a few yoga stretches, then adding a small room, even duel guest or office room, where the sun will be shining in as it rises and is big enough to accommodate you and your partner's yoga mats might be something to consider when choosing a layout plan when building a new home.
Family Size
How your family is made up plays a large part in deciding on where bedrooms may go. With kids, especially newborns and young children, having their bedrooms on the same floor as the master bedroom is ideal because you don't want to be running up and down stairs to check on them. Proximity is peace of mind.
Similarly, with older kids, you don't necessarily want their bedrooms on the main floor close to other living spaces, especially as they get older, because with age they tend to get louder and messier. And privacy is a huge factor for teenagers and parents alike. Neither party wants to live on top of the other.
Similarly, if there is an older parent living in the home who needs more accessible features, then a bedroom with a full en suite bathroom on the main floor, or even in their room, aids in their ease of mobility.
Carefully review your family's preferences and lifestyle prior to selecting a floor plan. New Tradition Homes offers its customers a variety of options that are sure to meet the individual needs of clients, and those needs vary and we know that.
If you have further input on what you'd like to see in a floor plan, talk to your builder to ensure your needs are met and your house will grow with your family as the years' pass.