Have you heard about HygroPalm before? If not, then don't worry , we will tell you everything about this important instrument. It's a portable device that comes with a probe that is both fixed and interchangeable. HygroPalm is used for measuring humidity and temperature with high accuracy. The integral 2000 point memory and USB connectivity are specific for all the series of HygroPalm instruments. Rotronic is a company that manufactures a series of this instrument and distributes them in the market. Rotronic Switzerland produces HygroPalm HP-22, HP-21 and HP-23-AW-A. Keep reading below to know about the features and applications individually.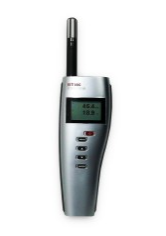 1. HygroPalm – HP21
It is an accurate handheld indicator that shows relative humidity, temperature and frost point temperature. It is ideal for spot checking HVAC installations, storage areas and any air measurement within the temperature range of -10 to 60 degree Celsius. HP21 is designed to meet the basic and most demanding applications. It is also suitable for a simple humidity and temperature indicator.
Application
It is used in mobile inspection and random tests in HVAC (heating, ventilating and air-conditioning), the pharmaceutical industry and also in the food and building and management systems.
Features
The specific features of HP21 are as follows-
Range of application -10…60 °C / 0…100 %rh
Accuracy at 23°C ±5 K: 1 %rh, 0.2 K
Adjusted at 23 °C and 10, 35, 80 %rh
Service interface (UART)
Calculation of dew and frost point
2. HygroPalm – HP22
It is similar to HygroPalm HP-21 but the difference lies in the probe selection which is based on the application. It is also used for measuring humidity, temperature and a wide choice of calculated parameters such as dew or frost point based on the measurement of a HygroClip2 plug-in probe. The measuring range is within 0 to 100%RH and -100 to 200 degree Celsius. This probe features durable sensors and also shows consistent performance. To facilitate routine calibrations, all HygroClip2 probes can be hot-swapped.
Application
It is used in mobile inspection and random tests in HVAC, the meteorological department, the pharmaceutical trade, the paper industry and last but not the least the food business.
Features
The specific features of HP22 are as follows-
Combinable with all ROTRONIC HC2 probes
Range of application: -10…60 °C / 0…100 %rh
All psychrometric calculations
Adjusted at 23 °C and 10, 35, 80 %rh
Service interface (UART)
3. HygroPalm – HP23-AW-A
The HP23 is a multi-functional portable indicator that reads the data from up to two HygroClip2 probes and showcases relative humidity, temperature and calculated parameters like dew or frost point. The probe input can be configured by the user to accept a third party analogue probe. It is also used to measure water activity in production processes like checking of the meat, cheese, tobacco, building materials, medicine and so on.
Applications
We know that it's appropriate for measuring the water activity in the production processes. It confirms the stability of the product. It is also used in the mobile laboratory unit.
Features
The specific features of HP23-AW-A are as follows-
2 input channels for HC2 station probes or HC2 insertion probes can be linked
AW Quick function for fast measurement results
Audible alarm to point out the finished measurement
Saves up to 10'000 data records with %rh, °C,
Battery charging function
# Read the guest post to get an overview of RotronicHygroPalm