If you're having problems with your plumbing and heating then it can be tempting to save a little bit of money and try and resolve these problems yourself, but unfortunately many people find when they are halfway through a job that is far too complicated for them to manage on their own. The problem here is that quite often semiskilled DIY enthusiasts can make the problem bigger and therefore more expensive to fix.
It is strongly recommended that all work to do with plumbing and heating is carried out by professional companies that have the knowledge and experience to get things done the right way at the first time of asking. In this article I have detailed a couple of the main reasons that you should employ a professional plumbing and heating company rather than taking on the work yourself.
Experience
There are many problems that to the untrained eye could look the same, but to a professional with years of experience under their belt these problems are clearly very different and different actions are required in order to resolve them. Experience prevents these professionals from doing the wrong things and creating more work for themselves and this ultimately results in less inconvenience for the customer and less money needing to be spent on the repairs.
Training
Becoming a plumbing and heating professional is not something that you can do overnight. It is a career much like many others that requires years of study and on-the-job training. During this training people will learn the best and most efficient way of dealing with many common problems as well as the best ways to deal with more complex issues.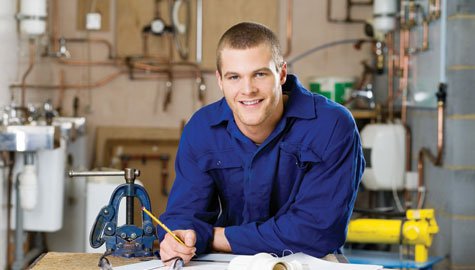 Insurance
Any plumbing and heating contractor should be fully insured which means that if there are any unexpected catastrophes you will be covered rather than being out of pocket.
Before employing a company to complete the work on your behalf it is always worth checking and double checking that they have the right insurance in place to protect you if the worst should happen.
The Correct Equipment
Every job is made a lot easier if you have the right equipment to complete it with. Plumbing and heating professionals spend thousands of pounds investing in the right equipment so that they can do their jobs quickly and efficiently. Having the right tools for the job not only makes sure that things run smoothly, but also that they are done correctly and without causing any damage to existing pipework. As a DIY enthusiast if you were to go out and purchase the tools needed to do the job properly then you would probably find that it would be cheaper to employ someone to do the work for you in the first place.
Regulations
There are a number of regulations that need to be adhered to when it comes to plumbing and heating and the average Joe cannot be expected to know this. It is part of the job of a professional to have a full understanding of these regulations and to make sure that they are complied with at all times. Failing to meet the required regulations could result in insurance claims being refused in a worst-case scenario.
These are just some of the considerations that you should be mindful of before trying to undertake your own plumbing and heating work. If you are still insistent on completing this work yourself that you should at least consider phoning a professional for advice.