People are moving towards a world where they are accommodating everything ergonomically. There is less space available for furniture and other important things. While on the other hand, people want the best alternative for more and easy adjustments of things at homes and other places.
In this situation, L-shaped bunk beds for adults are proven to be the best at using. They are the perfect and fun solution for making the space in a bedroom.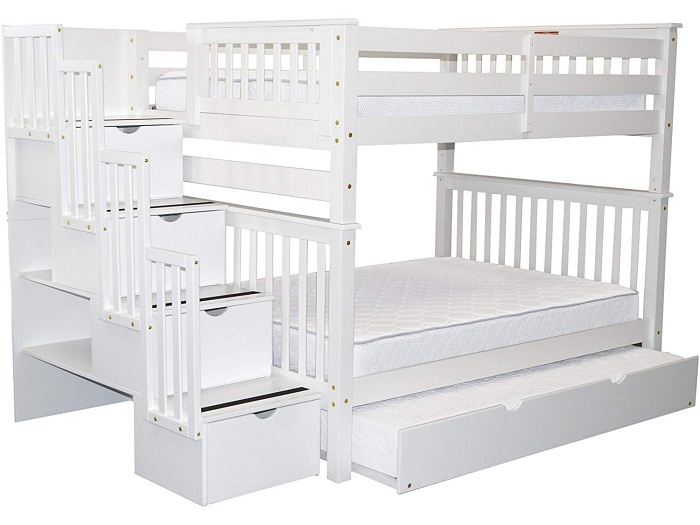 L-shaped bunk beds for kids are traditionally associated for entertainment purposes and space making as well. They are gaining popularity in almost all the families taking its wide advantages. Bunk beds are mainly brought in use when people attend their guests or in any such situations. Bunk beds can suit the needs of both adults and children and are perfectly accessible for any occasion. Nowadays, bunk beds are designed keeping the protection and comfort of people in the mind especially.
Types of Bunk Beds
There are different ranges and styles of bunk beds available in the market. They can be classified as follows:
Standard bunk bed: It consists of two twin beds with one stacked at the top of other. They are specifically designed so as to be able to detach and used as two separate and individual beds on the floor.
Triple bunk bed: They are not so commonly seen in homes. They are mostly seen in dormitories, ships and in the places where the floor space is limited. It is featured with three twin beds, arranged on the top of each other. They are liked mostly to be placed in hostels or in dorms.
Twin over full bunk bed: It is a twin bed over a full bunk bed. It takes the area required to place a double bed. The placement of the twin bed on the top of double bed makes the room look larger considering both the levels.
Futon bunk bed: It is similar to a standard bunk bed. In this case, a futon is placed instead of a mattress on the lower bunk. The futon can be used as a sofa and it can be converted into a second bed if needed. It is of great utilities to gain the fun of watching TV or playing video games in the same room.
L-shaped bunk beds for kids: These beds are unique and attractive and come up with many incorporate storage solutions. There are L-shaped bunk beds for adults and kids, both available at affordable prices in the market. It is specifically designed for providing comfort to the person who is going to sleep on lower bunk especially. The upper bunk bed is not exactly placed on the top of the lower bunk. They are aligned and placed over each other to look like L-shape when viewed from the vertical position.
Trundle bunk bed: In this case, three mattresses are arranged on two bunks. The beds can work with twin bunk beds and double bunk beds.
Hence, with all these specifications, bunk beds are becoming popular and common in every house.