As a parent, you only want what's best for your kids and your family in general. As such, when the time comes to take on a nanny and give what's essentially a stranger the keys to your home, your kids and your life, it's natural to be rather on the apprehensive side. Employ a great nanny and every hour of every day can be made a pure joy – make the wrong decision and…well, probably best not to think too long and hard about that side of things!
The good news however is that these days at least, choosing the right nanny is technically easier to do than ever before…something else we have the web to thank for. Searching, locating and getting in touch with nannies really is a breeze, but at the same time there will always be those that tick all the right boxes while others are barely capable of going through the motions.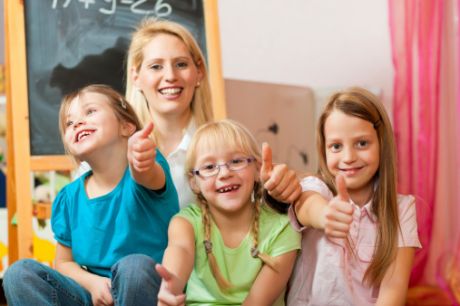 So, in the spirit of making the right choice the first time at bat, here's a quick eight-point checklist that should at least help you on your way to selecting a nanny your family will be happy to have around:
1 – Create a Checklist
So, the first point on the list is to go ahead and create a list of your own. The reason being that if you are out to find the very best nanny on the market to suit your needs down to the ground, you first need to fully establish what your needs are. What makes a perfect nanny in the eyes of one family differs hugely from that of another – you can't expect to have all your personal boxes ticked unless you first establish what they are. So, sit down, take your time and come up with a list as long as it needs to be with everything your nanny needs to be, do and offer.
2 – Use the Right Agency
Don't fall into the trap of assuming that all nanny agencies are of the same calibre – this really couldn't be further from the truth. In the better instances, agencies like RockMyBaby in London play a key role in vetting and verifying the nannies in their databases, making sure that much of the legwork is already done. However, others aren't so bothered about quality and will literally put you in touch with anyone across the UK that has decided to sign up as a nanny…even though they might not be one. So, as well as checking the nannies, be sure to check your chosen agency too.
3 – Good Interview Technique
When the time comes to organize an interview, don't just assume you'll know what to say and what to ask at the time – chances are you'll draw a blank. It might sound a bit stuffy and formal, but be sure to map out a series of key questions and your own unique nanny job description in advance of the day itself, just to make sure you're all on the same page.
4 – Speak to Referees
There will be references listed by the nanny in the application submitted – it's your job to both speak to them and verify that they are who they say they are. After all, it's easy to list a phone number of a friend and ask them to pretend to be a past employer – it's even easier to do so by way of email.
5 – Trial Employment Period
Even if you're wholly convinced you're onto a winner, always be sure to organise a trial or probationary period before drawing up a long-term contract. Things often pan out rather differently than they appear on paper which in this instance means that how your nanny comes across prior to being taken on may not be reflected in their work. Some excel, others disappoint – it's up to you to handle it appropriately.
6 – Trust Your Gut
If your gut tells you this isn't the nanny for you, all the qualifications and experience on paper count for nothing – it really is as simple as that.
7 – Check Compatibility
Throughout the trial period, you should be keeping a close eye on the way they nanny gets on (or otherwise) with the kids, yourselves, the household pets, neighbours and really anyone else of significance. Compatibility again counts more than all the experience and qualifications in the world, so don't overlook it.
8 – Stay Objective
Last but not least, never fall into the trap of giving a nanny the job just because you either feel you have to or think it's the right thing to do. When your family's happiness and indeed wellbeing are both on the line, you have every right to be as selective, picky and selfish as you like!