Window treatments are a great way to enhance the aesthetic value of homes that also create privacy. From times as old as the hills, curtains have held the center stage for dressing windows. It still remains quite popular but has lost much of its sheen as many other window dressing options have been introduced. Today, there is no need to just think about curtains and drapes. Look beyond it and you will come across window blinds, shutters and shades that have gained enormous popularity due to its advanced features that complement modern day living.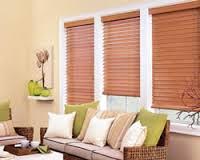 You will find window blinds in different materials, sizes, colors and designs and the best part is that no size is too small for these dressings as it can be as small as 18 inches to begin with. No matter where the windows are located, in living rooms, bedrooms, kitchens, patios or bathrooms you will definitely find blinds that are suitable for each of these places.
But if you think that your choice for window treatments is restricted between window blinds and curtains only then you are highly mistaken. There are other options too that can be equally attractive, depending on how you want to make use of it.
Curtains – There is perhaps no need to explain what it is. Select the fabric, design, color and style of stitching and give your windows a decent covering that can light up the entire place with its brightness and cool comfort. There are different methods of fixing curtains that makes it look elegant.
Panel track blinds – This kind of vertical blinds are mounted on overhead rails and often comes in a combination with drapes. Due to the ease of movement from one end to another, this type is ideally suited for large door openings like sliding doors.
Blinds made from wood – These are considered premium window blinds where the slats are made from natural wood. The surface can be polished and varnished to retain the natural looks and are best suited for beach side homes and tropical homes where the problems of moisture and salinity can affect the quality of other materials. Depending on your choice and the indoor décor, you can also get these painted to match with the surroundings.
Shutters – These come in the form of panels that are mounted on hinges and can be opened inside out. The panels are often provided with louvers that can be adjusted for controlling the opening without having to open the shutters.
Sheer shades – These are similar to single piece blinds made from fabric. These are hung from a horizontal frame that is fitted to the top of the window opening; either within the recess or outside it.
Drapes– These are akin to curtains but differ in the quality of fabric that is much thicker and the stitching is done with pleats. These are meant for large windows and homes with extended ceiling height.
The options now being known it should be easy to make a choice of beautifying your home.