When it comes to designing and stylizing the heart of your home, there can be no compromises at all. Moreover, everyone desires to have the best hi-tech appliances and utilities, cabinets to cooktops in their dream kitchen. Therefore, when you plan to design this part of your home, you need to have an essential idea of the primary layouts, which are preferred for kitchens. In addition, accordingly decide, which one will be the most suitable layout keeping in mind each and every aspect of a kitchen-area like cabinets, sinks, countertops, appliances, color scheme, door and window materials, etc. The layouts of kitchens are primarily designed to create an effective work triangle, which must essentially include storage of food, preparation of food, and cleaning. There are five basic layouts, which essentially stick to this work triangle and have their own effective advantages and benefits.
One Wall Kitchen
This is considered for its high-end space saving design where all the cabinets, countertops, sinks, etc. are all found on a single wall. This is also popularly known as the Pullman Kitchen. However, though all the utilities are located on one side, in spite of the work triangle effectively works out even in this layout when the sink is positioned at the center with the cooktop on one side and the refrigerator on the other side. However, it is often preferred as the most space-saving layout, but the cook has to walk to all the way every end to serve each purpose, which reduces the efficiency of work.
L Shaped Layout
In these type of layouts, two adjacent walls sharing a common corner is used to effectively accommodate the cabinet and storage or sink on one range and the remaining part in the adjacent wall. The most efficient benefit of this layout is that it allows an open concept of space where more than one cook can work in parallel.
Effective working area with the three junctions of work in sync with each other.
The design allows you to install appliances in a variety of locations without hampering working ease.
This layout is an ideal layout for big families, or for houses where guests visit quite often. Since these kitchens allow more than one people to work at a time.
U Shaped Kitchen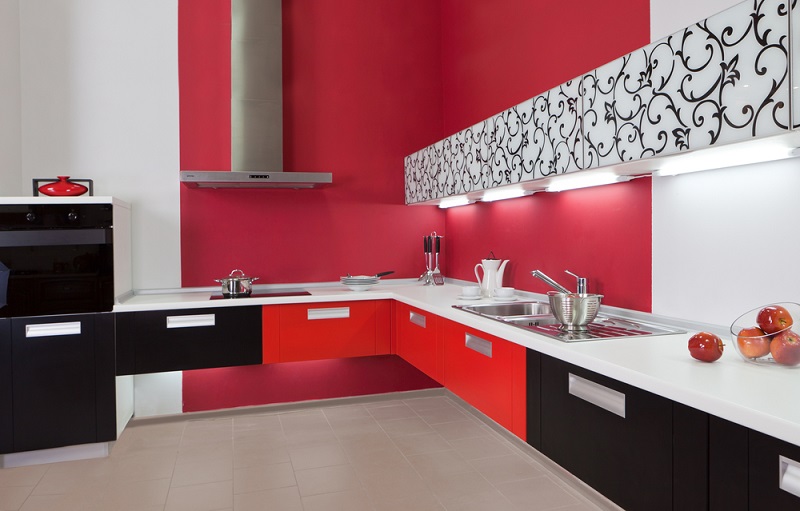 This kind of layout offers an extensive range of surface countertop space, along with abundant storage space on all three sides with only one side open, as the name of the layout already suggests. However, since all the three walls are utilized the space for movement within the loop is limited. Either you need to have a huge space to enhance the interior space or you have to take the design primarily for one cook to operate within the kitchen.
Galley Kitchen
This is typically considered the most efficient kitchen layouts of all, owing to its design and workable efficiency. There are two parallel walls consisting of cabinets on one side and appliances on the other. There is a free space in between for easy movement and this layout enhances the accessibility to every workstation in the cooking area. However, to work with an ease you must ensure minimum 4 feet of space within the two parallel units.
G Shaped Kitchens
This layout is in parity with the U-shaped layout with a minor addition of a fourth partial wall. This partial wall allows you to have a more storage space along with countertop space. It is also often used as a snack or breakfast bar to serve the people, where family members can enjoy their meal with person cooking inside the kitchen area.